Welcome to perhaps the most important of all these NFL rankings we've done over the past few weeks. That's right folks, it's time to rank the back-up quarterback position and you may laugh right now, but just remember who it was that was hoisting the Super Bowl trophy just a few months back? A BACK-UP QB THAT'S WHO!
The NFL is a dangerous game and injuries happen way too frequently. That's why it's important to have good depth on your football team and no other back-up position is more important in the game of football than that of the quarterback. If you have a good back-up quarterback, it gives you a little bit of breathing room in the NFL. When Carson Wentz went out with an injury last season, people started to write off the Philadelphia Eagles because it was Nick Foles time.
We all know what happened next.
That result wouldn't be the same if Philly didn't have Foles and had someone like….Brock Osweiler as the second man up. Yikes.
Scoff if you want folks, but the back-up QB is an important position and that's why I've ranked the best and worst in the NFL.
As always, depth charts are from Rotoworld.com.
32. Garrett Gilbert (Carolina Panthers)
Age: 27
Career QB Completion Percentage: Has never played
Career Touchdown Passes: Has never played
Career QB Rating: Has never played
Career Passing Yards: Has never played
Career Games Played: Has never played
---
31. Matt Schaub (Atlanta Falcons)
Age: 37
Career QB Completion Percentage: 63.9
Career Touchdown Passes: 133
Career QB Rating: 89.1
Career Passing Yards: 24,867
Career Games Played: 145
---
30. Matt Barkley (Cincinnati Bengals)
Age: 27
Career QB Completion Percentage: 59.8
Career Touchdown Passes: 8
Career QB Rating: 63.7
Career Passing Yards: 1,911
Career Games Played: 11
---
29. Brandon Weeden (Houston Texans)
Age: 34
Career QB Completion Percentage: 57.9
Career Touchdown Passes: 31
Career QB Rating: 76.0
Career Passing Yards: 6,462
Career Games Played: 34
---
28. Davis Webb (New York Giants)
Age: 23
Career QB Completion Percentage: Hasn't played
Career Touchdown Passes: Hasn't played
Career QB Rating: Hasn't played
Career Passing Yards: Hasn't played
Career Games Played: Hasn't played
---
27. Chase Daniel (Chicago Bears)
Age: 31
Career QB Completion Percentage: 65.4
Career Touchdown Passes: 1
Career QB Rating: 81.1
Career Passing Yards: 480
Career Games Played: 57
---
26. Colt McCoy (Washington Redskins)
Age: 31
Career QB Completion Percentage: 60.3
Career Touchdown Passes: 26
Career QB Rating: 78.9
Career Passing Yards: 5,586
Career Games Played: 35
---
25. Austin Davis (Seattle Seahawks)
Age: 29
Career QB Completion Percentage: 62.4
Career Touchdown Passes: 13
Career QB Rating: 80.4
Career Passing Yards: 2,548
Career Games Played: 16
---
24. Jake Rudock (Detroit Lions)
Age: 25
Career QB Completion Percentage: 60.0
Career Touchdown Passes: 0
Career QB Rating: 32.5
Career Passing Yards: 24
Career Games Played: 3
---
23. Cooper Rush (Dallas Cowboys)
Age: 24
Career QB Completion Percentage: 33.3
Career Touchdown Passes: 0
Career QB Rating: 42.4
Career Passing Yards: 2
Career Games Played: 2
---
22. Chad Henne (Kansas City Chiefs)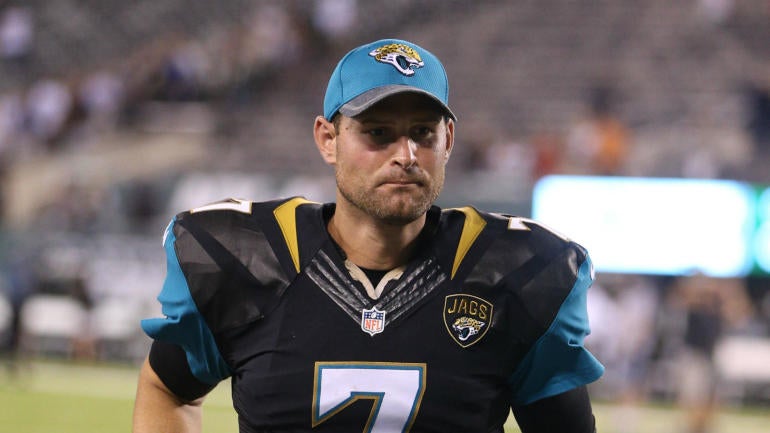 Age: 33
Career QB Completion Percentage: 59.3
Career Touchdown Passes: 58
Career QB Rating: 75.5
Career Passing Yards: 12,931
Career Games Played: 67
---
21. Cody Kessler (Jacksonville Jaguars)
Age: 25
Career QB Completion Percentage: 63.8
Career Touchdown Passes: 6
Career QB Rating: 87.4
Career Passing Yards: 1,506
Career Games Played: 12

---
20. Landry Jones (Pittsburgh Steelers)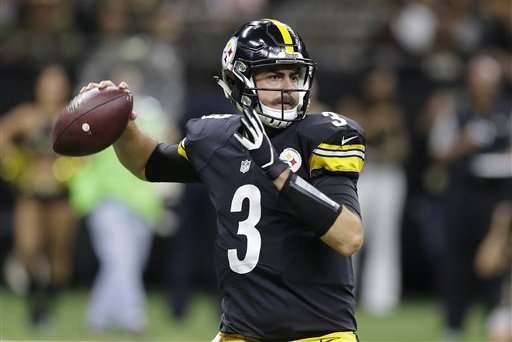 Age: 29
Career QB Completion Percentage: 63.9
Career Touchdown Passes: 8
Career QB Rating: 86.2
Career Passing Yards: 1,310
Career Games Played: 19
---
19. Geno Smith (Los Angeles Chargers)
Age: 27
Career QB Completion Percentage: 57.9
Career Touchdown Passes: 29
Career QB Rating: 72.9
Career Passing Yards: 6,174
Career Games Played: 35
---
18. E.J. Manuel (Oakland Raiders)
Age: 28
Career QB Completion Percentage: 58.1
Career Touchdown Passes: 20
Career QB Rating: 77.1
Career Passing Yards: 3,767
Career Games Played: 30
---
17. Sean Mannion (Los Angeles Rams)
Age: 26
Career QB Completion Percentage: 62.0
Career Touchdown Passes: 0
Career QB Rating: 65.0
Career Passing Yards: 235
Career Games Played: 7
---
16. Paxton Lynch (Denver Broncos)
Age: 24
Career QB Completion Percentage: 61.7
Career Touchdown Passes: 4
Career QB Rating: 76.7
Career Passing Yards: 792
Career Games Played: 5
---
15. Ryan Fitzpatrick (Tampa Bay Buccaneers)
Age: 35
Career QB Completion Percentage: 59.7
Career Touchdown Passes: 173
Career QB Rating: 79.9
Career Passing Yards: 26,991
Career Games Played: 133
---
14. Blaine Gabbert (Tennessee Titans)
Age: 28
Career QB Completion Percentage: 55.9
Career Touchdown Passes: 44
Career QB Rating: 71.5
Career Passing Yards: 8,437
Career Games Played: 48
---
13. Brock Osweiler (Miami Dolphins)
Age: 27
Career QB Completion Percentage: 59.2
Career Touchdown Passes: 31
Career QB Rating: 76.5
Career Passing Yards: 6,171
Career Games Played: 42
---
12. Trevor Siemian (Minnesota Vikings)
Age: 26
Career QB Completion Percentage: 59.3
Career Touchdown Passes: 30
Career QB Rating: 79.9
Career Passing Yards: 5,686
Career Games Played: 26
---
11. Lamar Jackson (Baltimore Ravens)
Age: 21
Career QB Completion Percentage: Rookie
Career Touchdown Passes: Rookie
Career QB Rating: Rookie
Career Passing Yards: Rookie
Career Games Played: Rookie
---
10. Josh Rosen (Arizona Cardinals)
Age: 21
Career QB Completion Percentage: Rookie
Career Touchdown Passes: Rookie
Career QB Rating: Rookie
Career Passing Yards: Rookie
Career Games Played: Rookie
---
9. Josh Allen (Buffalo Bills)
Age: 22
Career QB Completion Percentage: Rookie
Career Touchdown Passes: Rookie
Career QB Rating: Rookie
Career Passing Yards: Rookie
Career Games Played: Rookie
---
8. Sam Darnold (New York Jets)
Age: 21
Career QB Completion Percentage: Rookie
Career Touchdown Passes: Rookie
Career QB Rating: Rookie
Career Passing Yards: Rookie
Career Games Played: Rookie
---
7. Baker Mayfield (Cleveland Browns)
Age: 23
Career QB Completion Percentage: Rookie
Career Touchdown Passes: Rookie
Career QB Rating: Rookie
Career Passing Yards: Rookie
Career Games Played: Rookie
---
6. C.J. Beathard (San Francisco 49ers)
Age: 24
Career QB Completion Percentage: 54.9
Career Touchdown Passes: 4
Career QB Rating: 69.2
Career Passing Yards: 1,430
Career Games Played: 7
---
5. Brian Hoyer (New England Patriots)
Age: 32
Career QB Completion Percentage: 59.4
Career Touchdown Passes: 48
Career QB Rating: 83.3
Career Passing Yards: 9,895
Career Games Played: 60
---
4. Tom Savage (New Orleans Saints)
Age: 28
Career QB Completion Percentage: 57.5
Career Touchdown Passes: 5
Career QB Rating: 72.5
Career Passing Yards: 2,000
Career Games Played: 13
---
3. Brett Hundley (Green Bay Packers)
Age: 25
Career QB Completion Percentage: 59.5
Career Touchdown Passes: 9
Career QB Rating: 67.9
Career Passing Yards: 1,853
Career Games Played: 15
---
2. Jacoby Brissett (Indianapolis Colts)
Age: 24
Career QB Completion Percentage: 59.2
Career Touchdown Passes: 13
Career QB Rating: 81.9
Career Passing Yards: 3,498
Career Games Played: 19
---
1. Nick Foles (Philadelphia Eagles)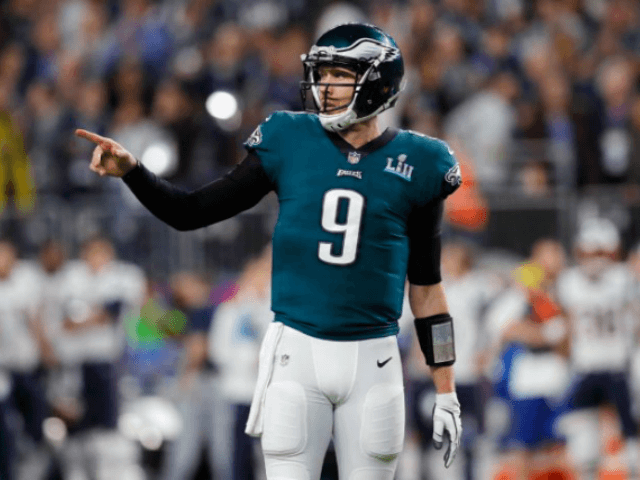 Age: 29
Career QB Completion Percentage: 60.1
Career Touchdown Passes: 61
Career QB Rating: 87.4
Career Passing Yards: 9,752
Career Games Played: 49