HAPPY TUESDAY EVERYONE! We are back once again with another set of NFL position power rankings for the upcoming NFL season.
You want to know which players are riding high from last season and which players are on the hot seat as far as being a starter is concerned? Well, you've come to the right place.
This time around, we are ranking the offensive guards in the NFC….otherwise known as the "Zack Martin Power Rankings". Can anyone FINALLY unseat Martin after two straight years on top of the rankings? Only one way to find out people.
As always, depth charts are from Rotoworld.com, who are the best in the league. And just a reminder, don't argue these rankings with me. I'm smarter than you and will fight your first-born if you challenge my intelligence.
32. Connor Williams (Dallas Cowboys)
Age: 21
2017-18 Run Blocking Grade: Rookie
2017-18 Pass Blocking Grade: Rookie
Previous Rankings: Not ranked
---
31. James Daniels (Chicago Bears)
Age: 20
2017-18 Run Blocking Grade: Rookie
2017-18 Pass Blocking Grade: Rookie
Previous Rankings: Not ranked
---
30. Will Hernandez (New York Giants)
Age: 22
2017-18 Run Blocking Grade: Rookie
2017-18 Pass Blocking Grade: Rookie
Previous Rankings: Not ranked
---
29. Joshua Garnett (San Francisco 49ers)
Age: 24
2017-18 Run Blocking Grade: Injured
2017-18 Pass Blocking Grade: Injured
Previous Rankings: Not ranked
---
28. Mike Iupati (Arizona Cardinals)
Age: 31
2017-18 Run Blocking Grade: Injured
2017-18 Pass Blocking Grade: Injured
Previous Rankings: 12th (2017), 8th (2016), 6th (2015)
---
27. John Greco (New York Giants)
Age: 33
2017-18 Run Blocking Grade: Didn't play enough
2017-18 Pass Blocking Grade: Didn't play enough
Previous Rankings: Not ranked
---
26. Danny Isidora (Minnesota Vikings)
Age: 24
2017-18 Run Blocking Grade: Didn't play enough
2017-18 Pass Blocking Grade: Didn't play enough
Previous Rankings: Not ranked
---
25. Amini Silatolu (Carolina Panthers)
Age: 29
2017-18 Run Blocking Grade: F
2017-18 Pass Blocking Grade: F
Previous Rankings: Not ranked
---
24. Ethan Pocic (Seattle Seahawks)
Age: 22
2017-18 Run Blocking Grade: F
2017-18 Pass Blocking Grade: F
Previous Rankings: Not ranked
---
23. Justin McCray (Green Bay Packers)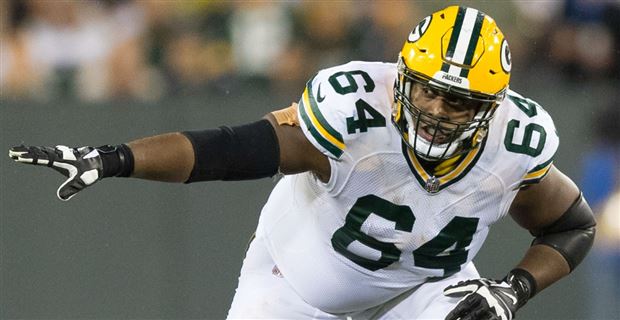 Age: 26
2017-18 Run Blocking Grade: F
2017-18 Pass Blocking Grade: F
Previous Rankings: Not ranked
---
22. Nick Easton (Minnesota Vikings)
Age: 26
2017-18 Run Blocking Grade: F
2017-18 Pass Blocking Grade: F
Previous Rankings: Not ranked
---
21. Shawn Lauvao (Washington Redskins)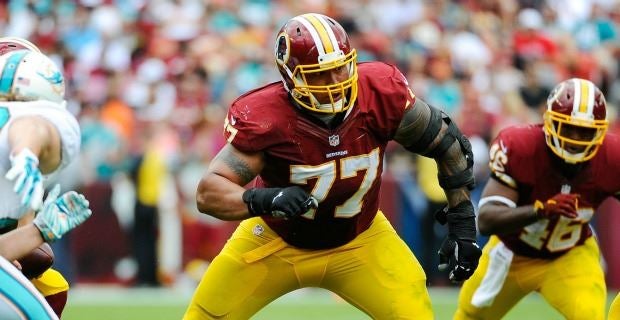 Age: 30
2017-18 Run Blocking Grade: C
2017-18 Pass Blocking Grade: F
Previous Rankings: 21st (2017)
---
20. D.J. Fluker (Seattle Seahawks)
Age: 27
2017-18 Run Blocking Grade: B
2017-18 Pass Blocking Grade: F
Previous Rankings: Not ranked
---
19. J.R. Sweezy (Tampa Bay Buccaneers)
Age: 29
2017-18 Run Blocking Grade: F
2017-18 Pass Blocking Grade: C
Previous Rankings: 31st (2017), 31st (2016), 27th (2015)
---
18. Andrus Peat (New Orleans Saints)
Age: 24
2017-18 Run Blocking Grade: D-
2017-18 Pass Blocking Grade: F
Previous Rankings: 20th (2017), 28th (2016)
---
17. Lane Taylor (Green Bay Packers)
Age: 28
2017-18 Run Blocking Grade: F
2017-18 Pass Blocking Grade: B-
Previous Rankings: 17th (2017)
---
16. Laken Tomlinson (San Francisco 49ers)
Age: 26
2017-18 Run Blocking Grade: B-
2017-18 Pass Blocking Grade: F
Previous Rankings: Not ranked
---
15. Stefen Wisniewski (Philadelphia Eagles)
Age: 29
2017-18 Run Blocking Grade: B
2017-18 Pass Blocking Grade: F
Previous Rankings: Not ranked
---
14. Jamon Brown (Los Angeles Rams)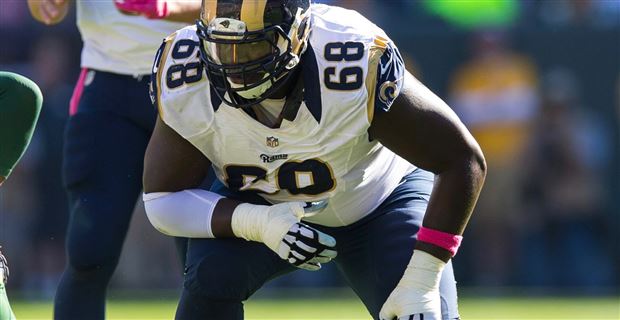 Age: 25
2017-18 Run Blocking Grade: C
2017-18 Pass Blocking Grade: F
Previous Rankings: Not ranked
---
13. Justin Pugh (Arizona Cardinals)
Age: 27
2017-18 Run Blocking Grade: C+
2017-18 Pass Blocking Grade: F
Previous Rankings: 8th (2017), 6th (2016), 15th (2015)
---
12. Kyle Long (Chicago Bears)
Age: 29
2017-18 Run Blocking Grade: B-
2017-18 Pass Blocking Grade: C
Previous Rankings: 19th (2017), 16th (2016), 4th (2015)
---
11. T.J. Lang (Detroit Lions)
Age: 30
2017-18 Run Blocking Grade: F
2017-18 Pass Blocking Grade: A-
Previous Rankings: 3rd (2017), 2nd (2016), 3rd (2015)
---
10. Graham Glasgow (Detroit Lions)
Age: 25
2017-18 Run Blocking Grade: B
2017-18 Pass Blocking Grade: C
Previous Rankings: 24th (2017)
---
9. Brandon Fusco (Atlanta Falcons)
Age: 29
2017-18 Run Blocking Grade: C+
2017-18 Pass Blocking Grade: B
Previous Rankings: Not ranked
---
8. Trai Turner (Carolina Panthers)
Age: 25
2017-18 Run Blocking Grade: B
2017-18 Pass Blocking Grade: C
Previous Rankings: 18th (2017), 4th (2016), 8th (2015)
---
7. Larry Warford (New Orleans Saints)
Age: 26
2017-18 Run Blocking Grade: C
2017-18 Pass Blocking Grade: B
Previous Rankings: 10th (2017), 18th (2016), 7th (2015)
---
6. Ali Marpet (Tampa Bay Buccaneers)
Age: 25
2017-18 Run Blocking Grade: B
2017-18 Pass Blocking Grade: D+
Previous Rankings: Not ranked
---
5. Andy Levitre (Atlanta Falcons)
Age: 32
2017-18 Run Blocking Grade: B-
2017-18 Pass Blocking Grade: B
Previous Rankings: 7th (2017), 9th (2016), 15th (2015)
---
4. Brandon Scherff (Washington Redskins)
Age: 26
2017-18 Run Blocking Grade: A-
2017-18 Pass Blocking Grade: B-
Previous Rankings: 9th (2017), 11th (2016), 16th (2015)
---
3. Rodger Saffold (Los Angeles Rams)
Age: 30
2017-18 Run Blocking Grade: B-
2017-18 Pass Blocking Grade: A
Previous Rankings: 11th (2017), 29th (2016), 18th (2015)
---
2. Brandon Brooks (Philadelphia Eagles)
Age: 28
2017-18 Run Blocking Grade: A
2017-18 Pass Blocking Grade: A-
Previous Rankings: 2nd (2017), 15th (2016), 3rd (2015)
---
1. Zack Martin (Dallas Cowboys)
Age: 27
2017-18 Run Blocking Grade: A+
2017-18 Pass Blocking Grade: A-
Previous Rankings: 1st (2017), 1st (2016), 2nd (2015)