We are back!
Oh, you thought just because I took a couple of days off from ranking NFL players that I was done and throwing in the towel? Not so fast my friends.
I don't know if you guys are aware of this, but it's A LOT of work to rank every single starter in the NFL. It takes hours of research. It's mentally draining for me sometimes to remember how these guys performed months ago and trust me when I say, I'm not just throwing toilet paper on the wall and hoping it sticks. I put some hard work into these things and I appreciate all the clicks you guys give me.
With that said, it's time to get back to work. Today, we are taking a look at the starting outside linebackers currently playing in a 4-3 scheme.
As always, depth charts are from RotoWorld.com. They are the best in the business as far as updated depth charts are concerned. And just a friendly reminder, rookies and guys who were injured last year are always ranked last. It's a power rankings people. That's how it works.
40. Darius Leonard (Indianapolis Colts)
Age: 26
Career Sacks: Rookie
Career Tackles: Rookie
Sacks (for 2017-18): Rookie
Tackles (for 2017-18 season): Rookie
Previous Rankings: Not ranked
---
39. Malcolm Smith (San Francisco 49ers)
Age: 28
Career Sacks: 6.0
Career Tackles: 269
Sacks (for 2017-18): Didn't play last season
Tackles (for 2017-18 season): Didn't play last season
Previous Rankings: Not ranked
---
38. Emmanuel Lamur (Oakland Raiders)
Age: 29
Career Sacks: 0.5
Career Tackles: 97
Sacks (for 2017-18): 0.0
Tackles (for 2017-18 season): 8
Previous Rankings: Not ranked
---
37. Kamu Grugier-Hill (Philadelphia Eagles)
Age: 24
Career Sacks: 0.0
Career Tackles: 8
Sacks (for 2017-18): 0.0
Tackles (for 2017-18 season): 8
Previous Rankings: Not ranked
---
36. Blair Brown (Jacksonville Jaguars)
Age: 24
Career Sacks: 0.5
Career Tackles: 7
Sacks (for 2017-18): 0.5
Tackles (for 2017-18 season): 7
Previous Rankings: Not ranked
---
35. Duke Riley (Atlanta Falcons)
Age: 23
Career Sacks: 0.0
Career Tackles: 12
Sacks (for 2017-18): 0.0
Tackles (for 2017-18 season): 12
Previous Rankings: Not ranked
---
34. Stephone Anthony (Miami Dolphins)
Age: 25
Career Sacks: 1.0
Career Tackles: 94
Sacks (for 2017-18): 0.0
Tackles (for 2017-18 season): 12
Previous Rankings: Not ranked
---
33. Ben Gedeon (Minnesota Vikings)
Age: 23
Career Sacks: 0.0
Career Tackles: 15
Sacks (for 2017-18): 0.0
Tackles (for 2017-18 season): 15
Previous Rankings: Not ranked
---
32. Denzel Perryman (Los Angeles Chargers)
Age: 25
Career Sacks: 4.0
Career Tackles: 138
Sacks (for 2017-18): 0.0
Tackles (for 2017-18 season): 25
Previous Rankings: Not ranked
---
31. Kyle Emanuel (Los Angeles Chargers)
Age: 26
Career Sacks: 3.0
Career Tackles: 62
Sacks (for 2017-18): 1.5
Tackles (for 2017-18 season): 18
Previous Rankings: 23rd (2017)
---
30. Antonio Morrison (Indianapolis Colts)
Age: 23
Career Sacks: 0.0
Career Tackles: 91
Sacks (for 2017-18): 0.0
Tackles (for 2017-18 season): 64
Previous Rankings: Not ranked
---
29. Jamie Collins (Cleveland Browns)
Age: 28
Career Sacks: 13.5
Career Tackles: 275
Sacks (for 2017-18): 1.0
Tackles (for 2017-18 season): 21
Previous Rankings: 18th (2017), 4th (2016), 2nd (2015)
---
28. A.J. Klein (New Orleans Saints)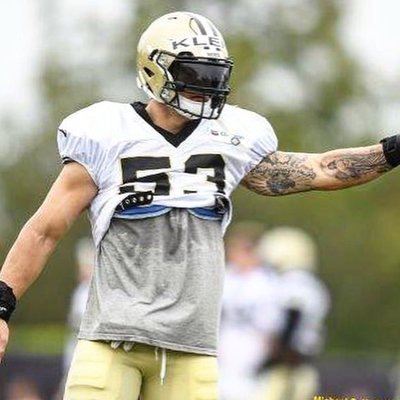 Age: 26
Career Sacks: 6.0
Career Tackles: 130
Sacks (for 2017-18): 2.0
Tackles (for 2017-18 season): 37
Previous Rankings: Not ranked
---
27. Deone Bucannon (Arizona Cardinals)
Age: 25
Career Sacks: 6.0
Career Tackles: 281
Sacks (for 2017-18): 1.0
Tackles (for 2017-18 season): 58
Previous Rankings: Not ranked
---
26. Kiko Alonso (Miami Dolphins)
Age: 27
Career Sacks: 3.0
Career Tackles: 265
Sacks (for 2017-18): 1.0
Tackles (for 2017-18 season): 79
Previous Rankings: 15th (2017)
---
25. Ramon Humber (Buffalo Bills)
Age: 30
Career Sacks: 4.5
Career Tackles: 194
Sacks (for 2017-18): 1.0
Tackles (for 2017-18 season): 56
Previous Rankings: 30th (2017)
---
24. Kendell Beckwith (Tampa Bay Buccaneers)
Age: 23
Career Sacks: 1.0
Career Tackles: 60
Sacks (for 2017-18): 1.0
Tackles (for 2017-18 season): 60
Previous Rankings: Not ranked
---
23. Christian Jones (Detroit Lions)
Age: 27
Career Sacks: 4.0
Career Tackles: 161
Sacks (for 2017-18): 2.0
Tackles (for 2017-18 season): 57
Previous Rankings: Not ranked
---
22. Haason Reddick (Arizona Cardinals)
Age: 23
Career Sacks: 2.5
Career Tackles: 20
Sacks (for 2017-18): 2.5
Tackles (for 2017-18 season): 20
Previous Rankings: Not ranked
---
21. Eli Harold (San Francisco 49ers)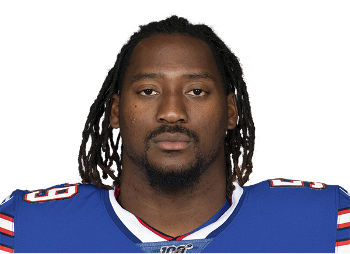 Age: 24
Career Sacks: 5.0
Career Tackles: 57
Sacks (for 2017-18): 2.0
Tackles (for 2017-18 season): 26
Previous Rankings: Not ranked
---
20. Kyle Van Noy (New England Patriots)
Age: 27
Career Sacks: 7.5
Career Tackles: 99
Sacks (for 2017-18): 5.5
Tackles (for 2017-18 season): 58
Previous Rankings: 16th (2017)
---
19. Marquis Flowers (New England Patriots)
Age: 26
Career Sacks: 3.5
Career Tackles: 30
Sacks (for 2017-18): 3.5
Tackles (for 2017-18 season): 23
Previous Rankings: Not ranked
---
18. Christian Kirksey (Cleveland Browns)
Age: 25
Career Sacks: 11.5
Career Tackles: 260
Sacks (for 2017-18): 3.5
Tackles (for 2017-18 season): 86
Previous Rankings: 12th (2017)
---
17. Lorenzo Alexander (Buffalo Bills)
Age: 35
Career Sacks: 24.5
Career Tackles: 229
Sacks (for 2017-18): 3.0
Tackles (for 2017-18 season): 53
Previous Rankings: Not ranked
---
16. Barkevious Mingo (Seattle Seahawks)
Age: 27
Career Sacks: 9.0
Career Tackles: 104
Sacks (for 2017-18): 2.0
Tackles (for 2017-18 season): 32
Previous Rankings: Not ranked
---
15. Devon Kennard (Detroit Lions)
Age: 26
Career Sacks: 9.5
Career Tackles: 134
Sacks (for 2017-18): 4.0
Tackles (for 2017-18 season): 24
Previous Rankings: 12th (2017), 21st (2016), 15th (2015)
---
14. Jaylon Smith (Dallas Cowboys)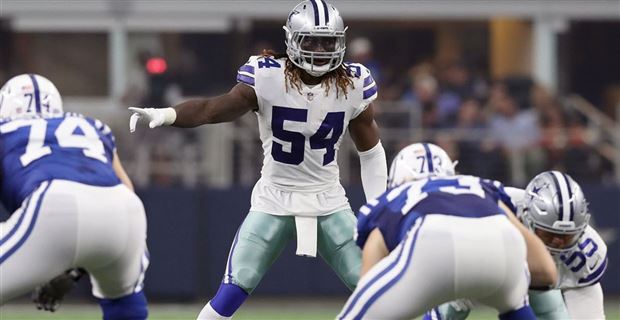 Age: 22
Career Sacks: 1.0
Career Tackles: 50
Sacks (for 2017-18): 1.0
Tackles (for 2017-18 season): 50
Previous Rankings: Not ranked
---
13. Anthony Barr (Minnesota Vikings)
Age: 26
Career Sacks: 10.5
Career Tackles: 198
Sacks (for 2017-18): 1.0
Tackles (for 2017-18 season): 52
Previous Rankings: 29th (2017), 2nd (2016), 6th (2015)
---
12. Craig Robertson (New Orleans Saints)
Age: 30
Career Sacks: 7.0
Career Tackles: 320
Sacks (for 2017-18): 2.0
Tackles (for 2017-18 season): 50
Previous Rankings: 24th
---
11. Shaq Thompson (Carolina Panthers)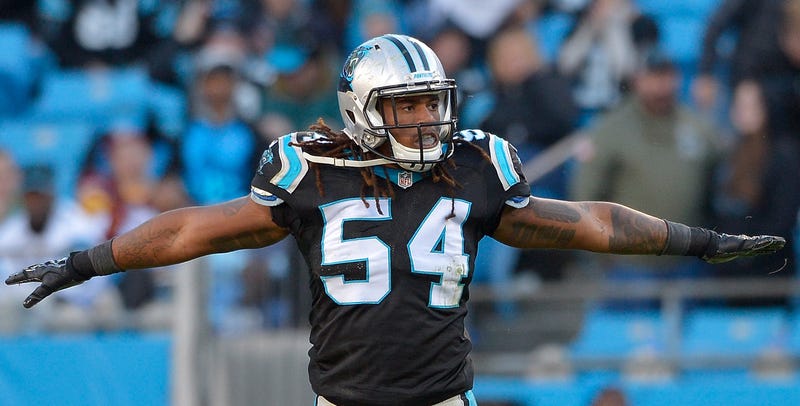 Age: 24
Career Sacks: 3.0
Career Tackles: 106
Sacks (for 2017-18): 2.0
Tackles (for 2017-18 season): 37
Previous Rankings: 13th (2017), 9th (2016), 16th (2015)
---
10. Thomas Davis (Carolina Panthers)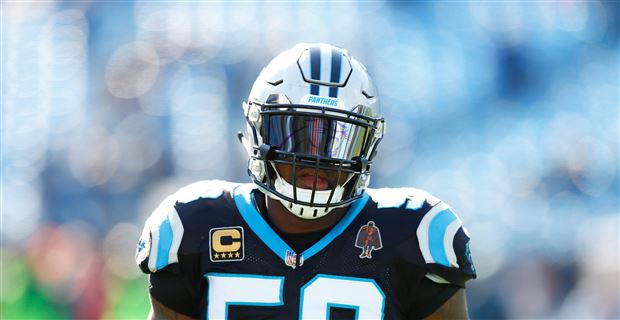 Age: 35
Career Sacks: 28.0
Career Tackles: 750
Sacks (for 2017-18): 2.5
Tackles (for 2017-18 season): 52
Previous Rankings: 14th (2017), 12th (2016), 5th (2015)
---
9. De'Vondre Campbell (Atlanta Falcons)
Age: 24
Career Sacks: 2.0
Career Tackles: 96
Sacks (for 2017-18): 2.0
Tackles (for 2017-18 season): 61
Previous Rankings: 22nd (2017)
---
8. Tahir Whitehead (Oakland Raiders)
Age: 28
Career Sacks: 3.0
Career Tackles: 290
Sacks (for 2017-18): 1.0
Tackles (for 2017-18 season): 78
Previous Rankings: 30th (2017), 2nd (2016)
---
7. Nigel Bradham (Philadelphia Eagles)
Age: 28
Career Sacks: 6.5
Career Tackles: 293
Sacks (for 2017-18): 1.0
Tackles (for 2017-18 season): 61
Previous Rankings: 7th (2017), 32nd (2016), 6th (2015)
---
6. Carl Lawson (Cincinnati Bengals)
Age: 22
Career Sacks: 8.5
Career Tackles: 10
Sacks (for 2017-18): 8.5
Tackles (for 2017-18 season): 10
Previous Rankings: Not ranked
---
5. K.J. Wright (Seattle Seahawks)
Age: 28
Career Sacks: 11.5
Career Tackles: 465
Sacks (for 2017-18): 0.0
Tackles (for 2017-18 season): 71
Previous Rankings: 2nd (2017), 5th (2016), 8th (2015)
---
4. Vontaze Burfict (Cincinnati Bengals)
Age: 27
Career Sacks: 8.5
Career Tackles: 381
Sacks (for 2017-18): 1.5
Tackles (for 2017-18 season): 48
Previous Rankings: 6th (2017), 7th (2016), 11th (2015)
---
3. Sean Lee (Dallas Cowboys)
Age: 31
Career Sacks: 2.5
Career Tackles: 432
Sacks (for 2017-18): 0.0
Tackles (for 2017-18 season): 70
Previous Rankings: 4th (2017), 3rd (2016), 9th (2015)
---
2. Lavonte David (Tampa Bay Buccaneers)
Age: 28
Career Sacks: 18.0
Career Tackles: 547
Sacks (for 2017-18): 0.0
Tackles (for 2017-18 season): 76
Previous Rankings: 10th (2017), 16th (2016), 7th (2015)
---
1. Telvin Smith (Jacksonville Jaguars)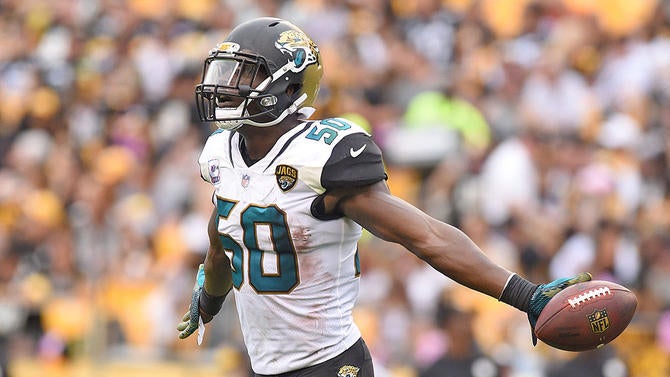 Age: 27
Career Sacks: 6.5
Career Tackles: 345
Sacks (for 2017-18): 1.0
Tackles (for 2017-18 season): 76
Previous Rankings: 5th (2017), 20th (2016), 14th (2015)