Another day just earning my pay check by ranking all the starters for this upcoming NFL season. By the time you get done reading all these power rankings, you should have a great feel on each team's roster heading into this season. Can you believe we are less than 100 days away from football being on our television?
Anyway, we have some shit to take care of before that arrives. Like ranking the wide receivers in the NFC…..
As always, starters are pulled from the depth charts over at Rotoworld.com.
And just a reminder, rookies and guys who didn't play that much are ranked low. It's a power rankings that goes off on what the player did last season. It's not hard to figure out folks.
32. Christian Kirk (Arizona Cardinals)
Age: 21
Career Receiving Yards: Rookie
Career Receiving TD's: Rookie
Receiving Yards (for 2017-18 season): Rookie
Receiving TD's (for 2017-18 season): Rookie
Previous Rankings: Not ranked
---
31. D.J. Moore (Carolina Panthers)
Age: 21
Career Receiving Yards: Rookie
Career Receiving TD's: Rookie
Receiving Yards (for 2017-18 season): Rookie
Receiving TD's (for 2017-18 season): Rookie
Previous Rankings: Not ranked
---
30. Allen Robinson (Chicago Bears)
Age: 24
Career Receiving Yards: 2,848
Career Receiving TD's: 22
Receiving Yards (for 2017-18 season): 17
Receiving TD's (for 2017-18 season): 0
Previous Rankings: 19th in AFC (2017), 3rd (2016), 18th (2015)
---
29. Brandon Marshall (Seattle Seahawks)
Age: 34
Career Receiving Yards: 12,215
Career Receiving TD's: 82
Receiving Yards (for 2017-18 season): 154
Receiving TD's (for 2017-18 season): 0
Previous Rankings: 27th (2017), 4th (2016), 19th (2015)
---
28. Taylor Gabriel (Chicago Bears)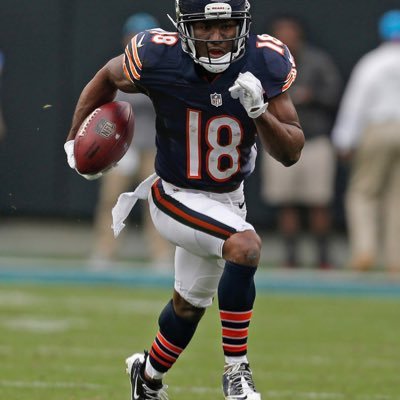 Age: 27
Career Receiving Yards: 1,819
Career Receiving TD's: 8
Receiving Yards (for 2017-18 season): 378
Receiving TD's (for 2017-18 season): 1
Previous Rankings: Not ranked
---
27. Odell Beckham (New York Giants)
Age: 25
Career Receiving Yards: 4,424
Career Receiving TD's: 38
Receiving Yards (for 2017-18 season): 302
Receiving TD's (for 2017-18 season): 3
Previous Rankings: 2nd (2017), 1st (2016), 2nd (2015)
---
26. Terrance Williams (Dallas Cowboys)
Age: 28
Career Receiving Yards: 3,359
Career Receiving TD's: 20
Receiving Yards (for 2017-18 season): 568
Receiving TD's (for 2017-18 season): 0
Previous Rankings: 24th (2017), 18th (2016), 14th (2015)
---
25. Pierre Garcon (San Francisco 49ers)
Age: 31
Career Receiving Yards: 7,568
Career Receiving TD's: 37
Receiving Yards (for 2017-18 season): 500
Receiving TD's (for 2017-18 season): 0
Previous Rankings: 8th (2017)
---
24. Allen Hurns (Dallas Cowboys)
Age: 26
Career Receiving Yards: 2,669
Career Receiving TD's: 21
Receiving Yards (for 2017-18 season): 484
Receiving TD's (for 2017-18 season): 2
Previous Rankings: 29th (2017), 8th (2016), 27th (2015)
---
23. Sterling Shepard (New York Giants)
Age: 25
Career Receiving Yards: 1,414
Career Receiving TD's: 10
Receiving Yards (for 2017-18 season): 731
Receiving TD's (for 2017-18 season): 2
Previous Rankings: Not ranked
---
22. Josh Doctson (Washington Redskins)
Age: 25
Career Receiving Yards: 568
Career Receiving TD's: 6
Receiving Yards (for 2017-18 season): 502
Receiving TD's (for 2017-18 season): 6
Previous Rankings: Not ranked
---
21. Randall Cobb (Green Bay Packers)
Age: 27
Career Receiving Yards: 5,141
Career Receiving TD's: 39
Receiving Yards (for 2017-18 season): 653
Receiving TD's (for 2017-18 season): 4
Previous Rankings: Not ranked
---
20. DeSean Jackson (Tampa Bay Buccaneers)
Age: 31
Career Receiving Yards: 9,487
Career Receiving TD's: 49
Receiving Yards (for 2017-18 season): 668
Receiving TD's (for 2017-18 season): 3
Previous Rankings: 9th (2017), 24th (2016), 12th (2015)
---
19. Ted Ginn (New Orleans Saints)
Age: 33
Career Receiving Yards: 5,072
Career Receiving TD's: 29
Receiving Yards (for 2017-18 season): 787
Receiving TD's (for 2017-18 season): 4
Previous Rankings: Not ranked
---
18. Mohamed Sanu (Atlanta Falcons)
Age: 28
Career Receiving Yards: 3,149
Career Receiving TD's: 20
Receiving Yards (for 2017-18 season): 703
Receiving TD's (for 2017-18 season): 5
Previous Rankings: 23rd (2017), 31st (2016)
---
17. Jamison Crowder (Washington Redskins)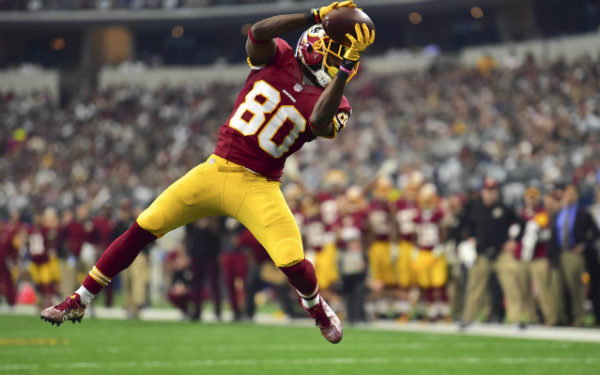 Age: 24
Career Receiving Yards: 2,240
Career Receiving TD's: 12
Receiving Yards (for 2017-18 season): 789
Receiving TD's (for 2017-18 season): 3
Previous Rankings: 22nd (2017)
---
16. Robert Woods (Los Angeles Rams)
Age: 26
Career Receiving Yards: 3,232
Career Receiving TD's: 17
Receiving Yards (for 2017-18 season): 781
Receiving TD's (for 2017-18 season): 5
Previous Rankings: 26th (2017), 30th (2016), 15th (2015)
---
15. Marquise Goodwin (San Francisco 49ers)
Age: 27
Career Receiving Yards: 1,742
Career Receiving TD's: 8
Receiving Yards (for 2017-18 season): 962
Receiving TD's (for 2017-18 season): 2
Previous Rankings: 30th (2017)
---
14. Nelson Agholor (Philadelphia Eagles)
Age: 25
Career Receiving Yards: 1.416
Career Receiving TD's: 11
Receiving Yards (for 2017-18 season): 768
Receiving TD's (for 2017-18 season): 8
Previous Rankings: Not ranked
---
13. Alshon Jeffery (Philadelphia Eagles)
Age: 28
Career Receiving Yards: 5,338
Career Receiving TD's: 35
Receiving Yards (for 2017-18 season): 789
Receiving TD's (for 2017-18 season): 9
Previous Rankings: 19th (2017), 12th (2016), 8th (2015)
---
12. Devin Funchess (Carolina Panthers)
Age: 24
Career Receiving Yards: 1,684
Career Receiving TD's: 17
Receiving Yards (for 2017-18 season): 840
Receiving TD's (for 2017-18 season): 8
Previous Rankings: 29th (2017)
---
11. Davante Adams (Green Bay Packers)
Age: 25
Career Receiving Yards: 2,811
Career Receiving TD's: 26
Receiving Yards (for 2017-18 season): 885
Receiving TD's (for 2017-18 season): 10
Previous Rankings: 13th (2017)
---
10. Stefon Diggs (Minnesota Vikings)
Age: 24
Career Receiving Yards: 2,472
Career Receiving TD's: 15
Receiving Yards (for 2017-18 season): 849
Receiving TD's (for 2017-18 season): 8
Previous Rankings: 16th (2017), 19th (2016)
---
9. Doug Baldwin (Seattle Seahawks)
Age: 29
Career Receiving Yards: 5,945
Career Receiving TD's: 44
Receiving Yards (for 2017-18 season): 991
Receiving TD's (for 2017-18 season): 8
Previous Rankings: 6th (2017), 3rd (2016), 21st (2015)
---
8. Brandin Cooks (Los Angeles Rams)
Age: 24
Career Receiving Yards: 3,943
Career Receiving TD's: 27
Receiving Yards (for 2017-18 season): 1,082
Receiving TD's (for 2017-18 season): 7
Previous Rankings: 3rd in AFC (2017), 5th (2016), 11th (2015)
---
7. Mike Evans (Tampa Bay Buccaneers)
Age: 24
Career Receiving Yards: 4,579
Career Receiving TD's: 32
Receiving Yards (for 2017-18 season): 1,001
Receiving TD's (for 2017-18 season): 5
Previous Rankings: 3rd (2017), 7th (2016), 6th (2015)
---
6. Golden Tate (Detroit Lions)
Age: 29
Career Receiving Yards: 6,419
Career Receiving TD's: 34
Receiving Yards (for 2017-18 season): 1,003
Receiving TD's (for 2017-18 season): 5
Previous Rankings: 11th (2017), 11th (2016), 15th (2015)
---
5. Marvin Jones (Detroit Lions)
Age: 28
Career Receiving Yards: 3,760
Career Receiving TD's: 28
Receiving Yards (for 2017-18 season): 1,101
Receiving TD's (for 2017-18 season): 9
Previous Rankings: 17th (2017), 17th (2016), 16th (2015)
---
4. Adam Thielen (Minnesota Vikings)
Age: 27
Career Receiving Yards: 2,524
Career Receiving TD's: 10
Receiving Yards (for 2017-18 season): 1,276
Receiving TD's (for 2017-18 season): 4
Previous Rankings: 15th (2017)
---
3. Larry Fitzgerald (Arizona Cardinals)
Age: 34
Career Receiving Yards: 15,545
Career Receiving TD's: 110
Receiving Yards (for 2017-18 season): 1,156
Receiving TD's (for 2017-18 season): 6
Previous Rankings: 7th (2017), 4th (2016), 26th (2015)
---
2. Julio Jones (Atlanta Falcons)
Age: 29
Career Receiving Yards: 9,054
Career Receiving TD's: 43
Receiving Yards (for 2017-18 season): 1,444
Receiving TD's (for 2017-18 season): 3
Previous Rankings: 1st (2017), 2nd (2016), 7th (2015)
---
1. Michael Thomas (New Orleans Saints)
Age: 25
Career Receiving Yards: 2,382
Career Receiving TD's: 14
Receiving Yards (for 2017-18 season): 1,245
Receiving TD's (for 2017-18 season): 5
Previous Rankings: 5th (2017)