Oh, you thought we were done power ranking all the 2018-19 NFL starters already? We aren't even halfway through yet, so buckle in boys and girls. Business is just now picking up. Today, we are taking a look at those pesky wide receivers.
If there's any position in the NFL where a player can quickly fall off a cliff, it's the wide receiver position. So many factors go into a wide receiver having a successful season that it's really no surprise when a player goes from one of the best in the league to an afterthought (Dez Bryant anyone?). Here are the guys who were the top dogs in the AFC last season….
As always, depth charts are pulled from Rotoworld.com.
And don't forget, rookies and players who were injured last year are always ranked low. Why the hell would I rank them high if they didn't even play? Think about it.
32. Julian Edelman (New England Patriots)
Age: 32
Career Receiving Yards: 4,540
Career Receiving TD's: 24
Receiving Yards (for 2017-18 season): Didn't play (Injured)
Receiving TD's (for 2017-18 season): Didn't play (Injured)
Previous Rankings: 7th (2017), 20th (2016), 25th (2015)
---
31. Josh Gordon (Cleveland Browns)
Age: 27
Career Receiving Yards: 3,089
Career Receiving TD's: 15
Receiving Yards (for 2017-18 season): 335
Receiving TD's (for 2017-18 season): 1
Previous Rankings: Not ranked
---
30. Zay Jones (Buffalo Bills)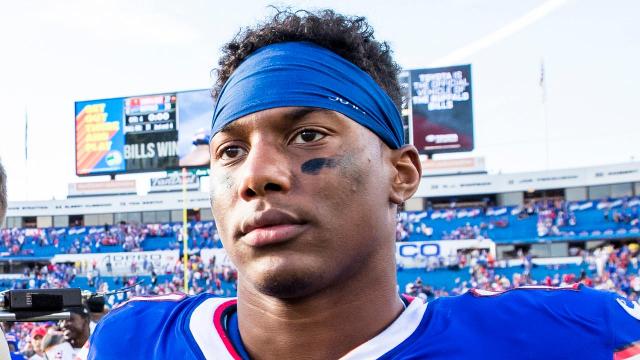 Age: 23
Career Receiving Yards: 316
Career Receiving TD's: 2
Receiving Yards (for 2017-18 season): 316
Receiving TD's (for 2017-18 season): 2
Previous Rankings: 27th (2017)
---
29. Dede Westbrook (Jacksonville Jaguars)
Age: 24
Career Receiving Yards: 339
Career Receiving TD's: 1
Receiving Yards (for 2017-18 season): 339
Receiving TD's (for 2017-18 season): 1
Previous Rankings: Not ranked
---
28. Chester Rogers (Indianapolis Colts)
Age: 24
Career Receiving Yards: 557
Career Receiving TD's: 1
Receiving Yards (for 2017-18 season): 284
Receiving TD's (for 2017-18 season): 1
Previous Rankings: Not ranked
---
27. Brandon LaFell (Cincinnati Bengals)
Age: 31
Career Receiving Yards: 5,263
Career Receiving TD's: 29
Receiving Yards (for 2017-18 season): 548
Receiving TD's (for 2017-18 season): 3
Previous Rankings: Not ranked
---
26. John Brown (Baltimore Ravens)
Age: 28
Career Receiving Yards: 2,515
Career Receiving TD's: 17
Receiving Yards (for 2017-18 season): 299
Receiving TD's (for 2017-18 season): 3
Previous Rankings: 25th in NFC (2017), 6th (2016)
---
25. Corey Davis (Tennessee Titans)
Age: 23
Career Receiving Yards: 375
Career Receiving TD's: 0
Receiving Yards (for 2017-18 season): 375
Receiving TD's (for 2017-18 season): 0
Previous Rankings: 25th (2017)
---
24. Chris Hogan (New England Patriots)
Age: 29
Career Receiving Yards: 2,078
Career Receiving TD's: 15
Receiving Yards (for 2017-18 season): 439
Receiving TD's (for 2017-18 season): 5
Previous Rankings: Not ranked
---
23. DeVante Parker (Miami Dolphins)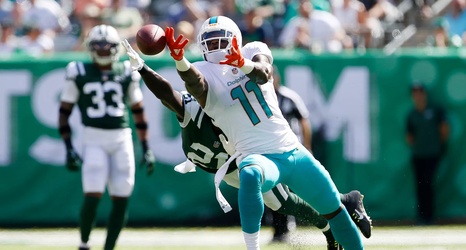 Age: 25
Career Receiving Yards: 1,908
Career Receiving TD's: 8
Receiving Yards (for 2017-18 season): 670
Receiving TD's (for 2017-18 season): 1
Previous Rankings: Not ranked
---
22. Emmanuel Sanders (Denver Broncos)
Age: 31
Career Receiving Yards: 6,156
Career Receiving TD's: 33
Receiving Yards (for 2017-18 season): 555
Receiving TD's (for 2017-18 season): 2
Previous Rankings: 6th (2017), 11th (2016), 6th (2015)
---
21. Will Fuller (Houston Texans)
Age: 24
Career Receiving Yards: 1,058
Career Receiving TD's: 9
Receiving Yards (for 2017-18 season): 423
Receiving TD's (for 2017-18 season): 7
Previous Rankings: 24th (2017), 26th (2016)
---
20. Jordy Nelson (Oakland Raiders)
Age: 33
Career Receiving Yards: 7,848
Career Receiving TD's: 69
Receiving Yards (for 2017-18 season): 482
Receiving TD's (for 2017-18 season): 6
Previous Rankings: 4th (2017), 9th (2016), 4th (2015)
---
19. Amari Cooper (Oakland Raiders)
Age: 23
Career Receiving Yards: 2,903
Career Receiving TD's: 18
Receiving Yards (for 2017-18 season): 680
Receiving TD's (for 2017-18 season): 7
Previous Rankings: 4th (2017), 12th (2016), 12th (2015)
---
18. Tyrell Williams (Los Angeles Chargers)
Age: 26
Career Receiving Yards: 1,877
Career Receiving TD's: 12
Receiving Yards (for 2017-18 season): 728
Receiving TD's (for 2017-18 season): 4
Previous Rankings: 9th (2017)
---
17. Marqise Lee (Jacksonville Jaguars)
Age: 26
Career Receiving Yards: 2,166
Career Receiving TD's: 8
Receiving Yards (for 2017-18 season): 702
Receiving TD's (for 2017-18 season): 3
Previous Rankings: Not ranked
---
16. Kelvin Benjamin (Buffalo Bills)
Age: 27
Career Receiving Yards: 2,641
Career Receiving TD's: 19
Receiving Yards (for 2017-18 season): 692
Receiving TD's (for 2017-18 season): 3
Previous Rankings: 14th in NFC (2017), 13th (2016), 9th (2015)
---
15. Kenny Stills (Miami Dolphins)
Age: 26
Career Receiving Yards: 3,585
Career Receiving TD's: 26
Receiving Yards (for 2017-18 season): 847
Receiving TD's (for 2017-18 season): 6
Previous Rankings: 18th (2017)
---
14. Michael Crabtree (Baltimore Ravens)
Age: 30
Career Receiving Yards: 6,870
Career Receiving TD's: 51
Receiving Yards (for 2017-18 season): 618
Receiving TD's (for 2017-18 season): 8
Previous Rankings: 10th (2017), 15th (2016), 29th (2015)
---
13. Jermaine Kearse (New York Jets)
Age: 28
Career Receiving Yards: 2,919
Career Receiving TD's: 16
Receiving Yards (for 2017-18 season): 810
Receiving TD's (for 2017-18 season): 5
Previous Rankings: Not ranked
---
12. Sammy Watkins (Kansas City Chiefs)
Age: 24
Career Receiving Yards: 3,052
Career Receiving TD's: 25
Receiving Yards (for 2017-18 season): 593
Receiving TD's (for 2017-18 season): 8
Previous Rankings: 21st (2017), 7th (2016), 9th (2015)
---
11. Demaryius Thomas (Denver Broncos)
Age: 30
Career Receiving Yards: 8,653
Career Receiving TD's: 57
Receiving Yards (for 2017-18 season): 949
Receiving TD's (for 2017-18 season): 5
Previous Rankings: 8th (2017), 10th (2016), 2nd (2015)
---
10. Rishard Matthews (Tennessee Titans)
Age: 28
Career Receiving Yards: 3,136
Career Receiving TD's: 21
Receiving Yards (for 2017-18 season): 795
Receiving TD's (for 2017-18 season): 4
Previous Rankings: 14th (2017)
---
9. T.Y. Hilton (Indianapolis Colts)
Age: 28
Career Receiving Yards: 6,827
Career Receiving TD's: 34
Receiving Yards (for 2017-18 season): 966
Receiving TD's (for 2017-18 season): 4
Previous Rankings: 2nd (2017), 13th (2016), 5th (2015)
---
8. JuJu Smith-Schuster (Pittsburgh Steelers)
Age: 21
Career Receiving Yards: 917
Career Receiving TD's: 7
Receiving Yards (for 2017-18 season): 917
Receiving TD's (for 2017-18 season): 7
Previous Rankings: Not ranked
---
7. Robby Anderson (New York Jets)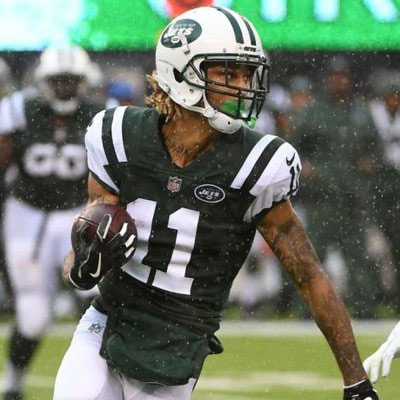 Age: 25
Career Receiving Yards: 1,528
Career Receiving TD's: 9
Receiving Yards (for 2017-18 season): 941
Receiving TD's (for 2017-18 season): 7
Previous Rankings: 30th (2017)
---
6. Jarvis Landry (Cleveland Browns)
Age: 25
Career Receiving Yards: 4,038
Career Receiving TD's: 22
Receiving Yards (for 2017-18 season): 987
Receiving TD's (for 2017-18 season): 9
Previous Rankings: 5th (2017), 14th (2016)
---
5. A.J. Green (Cincinnati Bengals)
Age: 29
Career Receiving Yards: 8,213
Career Receiving TD's: 57
Receiving Yards (for 2017-18 season): 1,078
Receiving TD's (for 2017-18 season): 8
Previous Rankings: 13th (2017), 5th (2016), 3rd (2015)
---
4. Tyreek Hill (Kansas City Chiefs)
Age: 24
Career Receiving Yards: 1,776
Career Receiving TD's: 13
Receiving Yards (for 2017-18 season): 1,183
Receiving TD's (for 2017-18 season): 7
Previous Rankings: 16th (2017)
---
3. Keenan Allen (Los Angeles Chargers)
Age: 26
Career Receiving Yards: 4,010
Career Receiving TD's: 22
Receiving Yards (for 2017-18 season): 1,393
Receiving TD's (for 2017-18 season): 6
Previous Rankings: 28th (2017), 19th (2016), 8th (2015)
---
2. DeAndre Hopkins (Houston Texans)
Age: 25
Career Receiving Yards: 5,865
Career Receiving TD's: 36
Receiving Yards (for 2017-18 season): 1,378
Receiving TD's (for 2017-18 season): 13
Previous Rankings: 15th (2017), 2nd (2016), 7th (2015)
---
1. Antonio Brown (Pittsburgh Steelers)
Age: 29
Career Receiving Yards: 9,910
Career Receiving TD's: 59
Receiving Yards (for 2017-18 season): 1,533
Receiving TD's (for 2017-18 season): 9
Previous Rankings: 1st (2017), 1st (2016), 1st (2015)