Day four of the 2018-19 NFL Position Power Rankings rolls along with a look at the defensive ends currently playing in a 3-4 defensive scheme.
There's no reason for me to go into detail about this position, because I just did that a few days ago when I ranked the DE's playing in a 4-3. If you REALLY want to go back and read what I wrote, I guess you can do that but something tells me if you're reading this, there's no need for that.
As always, players who were injured last season and rookies who are just entering the league are always ranked low, so don't blow your lids.
Also, depth charts are pulled from Rotoworld.com, so if you have an issue with a player's position….your issue is with them.
AND AWAY WE GO!!!!!!!!!!!
24. Romeo Okwara (New York Giants)
Age: 22
Career Sacks: 1.0
Sacks (for 2017-18 season): 0
Tackles (for 2017-18 season): 1
Previous Rankings: Not ranked
---
23. Brent Urban (Baltimore Ravens)
Age: 27
Career Sacks: 3.0
Sacks (for 2017-18 season): 0
Tackles (for 2017-18 season): 3
Previous Rankings: 15th (2017)
---
22. Jonathan Allen (Washington Redskins)
Age: 23
Career Sacks: 1.0
Sacks (for 2017-18 season): 1.0
Tackles (for 2017-18 season): 3
Previous Rankings: 20th (2017)
---
21. Christian Covington (Houston Texans)
Age: 24
Career Sacks: 4.0
Sacks (for 2017-18 season): 1.0
Tackles (for 2017-18 season): 10
Previous Rankings: 22nd (2017)
---
20. J.J. Watt (Houston Texans)
Age: 29
Career Sacks: 76.0
Sacks (for 2017-18 season): 0
Tackles (for 2017-18 season): 11
Previous Rankings: 18th (2017), 1st (2016), 1st (2015)
---
19. Mike Pennel (New York Jets)
Age: 27
Career Sacks: 1.0
Sacks (for 2017-18 season): 0
Tackles (for 2017-18 season): 20
Previous Rankings: Not ranked
---
18. Allen Bailey (Kansas City Chiefs)
Age: 29
Career Sacks: 13.5
Sacks (for 2017-18 season): 2.0
Tackles (for 2017-18 season): 21
Previous Rankings: 25th (2017), 26th (2016), 21st (2015)
---
17. Jonathan Bullard (Chicago Bears)
Age: 24
Career Sacks: 2.0
Sacks (for 2017-18 season): 1.0
Tackles (for 2017-18 season): 18
Previous Rankings: Not ranked
---
16. Derek Wolfe (Denver Broncos)
Age: 28
Career Sacks: 24.5
Sacks (for 2017-18 season): 2.0
Tackles (for 2017-18 season): 18
Previous Rankings: 10th (2017), 2nd (2016), 25th (2015)
---
15. Adam Gotsis (Denver Broncos)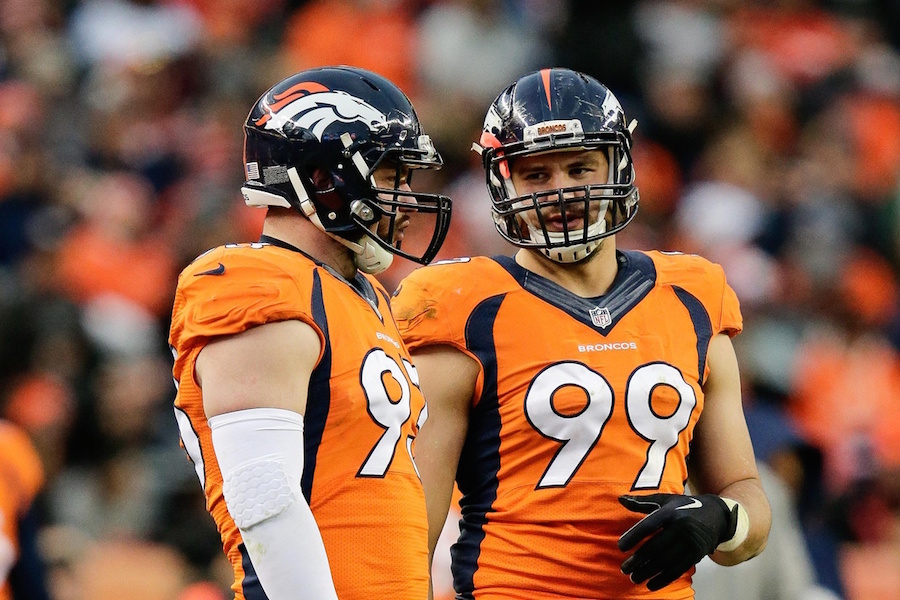 Age: 25
Career Sacks: 2.0
Sacks (for 2017-18 season): 2.0
Tackles (for 2017-18 season): 28
Previous Rankings: Not ranked
---
14. Matt Ioannidis (Washington Redskins)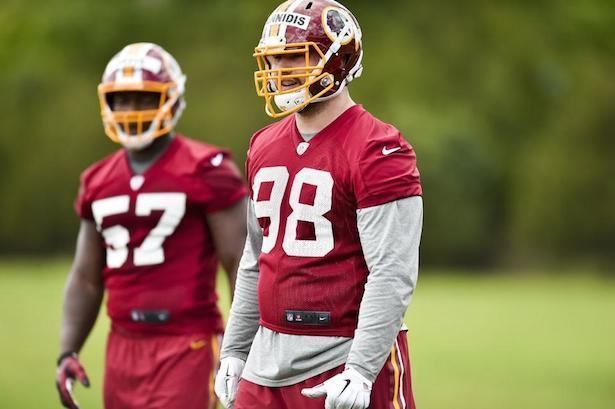 Age: 24
Career Sacks: 4.5
Sacks (for 2017-18 season): 4.5
Tackles (for 2017-18 season): 13
Previous Rankings: Not ranked
---
13. DaQuan Jones (Tennessee Titans)
Age: 26
Career Sacks: 6.0
Sacks (for 2017-18 season): 3.5
Tackles (for 2017-18 season): 19
Previous Rankings: 12th (2017), 19th (2016)
---
12. Muhammad Wilkerson (Green Bay Packers)
Age: 28
Career Sacks: 44.5
Sacks (for 2017-18 season): 3.5
Tackles (for 2017-18 season): 26
Previous Rankings: 28th (2017), 4th (2016), 4th (2015)
---
11. Michael Brockers (Los Angeles Rams)
Age: 27
Career Sacks: 19.0
Sacks (for 2017-18 season): 4.5
Tackles (for 2017-18 season): 39
Previous Rankings: 2nd (ranked at DT, 2017), 8th (2016), 13th (2015)
---
10. Brandon Williams (Baltimore Ravens)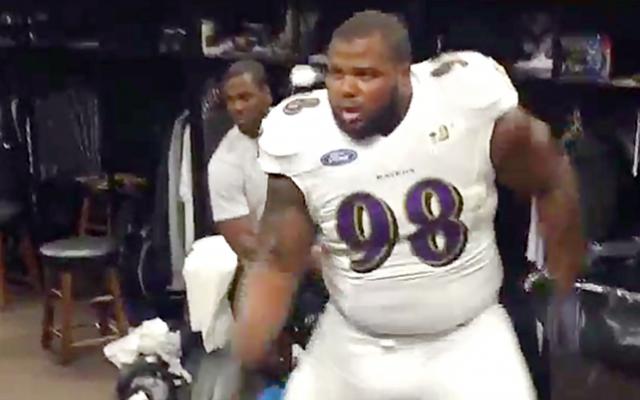 Age: 29
Career Sacks: 4.5
Sacks (for 2017-18 season): 0
Tackles (for 2017-18 season): 18
Previous Rankings: 3rd (2017, ranked at DT), 4th (2016), 3rd (2015)
---
9. Dalvin Tomlinson (New York Giants)
Age: 24
Career Sacks: 1.0
Sacks (for 2017-18 season): 1.0
Tackles (for 2017-18 season): 30
Previous Rankings: Not ranked
---
8. Leonard Williams (New York Jets)
Age: 23
Career Sacks: 12.0
Sacks (for 2017-18 season): 2.0
Tackles (for 2017-18 season): 22
Previous Rankings: Not ranked
---
7. Stephon Tuitt (Pittsburgh Steelers)
Age: 25
Career Sacks: 14.5
Sacks (for 2017-18 season): 3.0
Tackles (for 2017-18 season): 19
Previous Rankings: 6th (2017), 11th (2016), 27th (2015)
---
6. Mike Daniels (Green Bay Packers)
Age: 29
Career Sacks: 27.0
Sacks (for 2017-18 season): 5.0
Tackles (for 2017-18 season): 34
Previous Rankings: 3rd (2017), 3rd (2016), 10th (2015)
---
5. Chris Jones (Kansas City Chiefs)
Age: 23
Career Sacks: 8.5
Sacks (for 2017-18 season): 6.5
Tackles (for 2017-18 season): 22
Previous Rankings: 4th (2017)
---
4. Akiem Hicks (Chicago Bears)
Age: 28
Career Sacks: 25.0
Sacks (for 2017-18 season): 8.5
Tackles (for 2017-18 season): 39
Previous Rankings: 5th (2017), 23rd (2016), 20th (2015)
---
3. Jurrell Casey (Tennessee Titans)
Age: 28
Career Sacks: 39.0
Sacks (for 2017-18 season): 6.0
Tackles (for 2017-18 season): 41
Previous Rankings: 2nd (2017), 6th (2016), 9th (2015)
---
2. Cameron Heyward (Pittsburgh Steelers)
Age: 29
Career Sacks: 37.0
Sacks (for 2017-18 season): 12.0
Tackles (for 2017-18 season): 30
Previous Rankings: 14th (2017), 9th (2016), 7th (2015)
---
1. Aaron Donald (Los Angeles Rams)
Age: 27
Career Sacks: 39.0
Sacks (for 2017-18 season): 11.0
Tackles (for 2017-18 season): 32
Previous Rankings: 1st (2017)