We do this every year here at THE USB. With the start of the summer season, it's officially time to get hyped for the upcoming football season. What better way to get hyped for the upcoming season than to rank EVERY SINGLE STARTER IN THE NFL? I've been doing this for almost five years now and trust me when I say…..it's a good tool to measure how good your favorite football team is going to be this season.
Now, before we move forward with the list, there are a few things I need to remind you of before we get to the good stuff.
First of all, this is a power rankings that is going off what the player did last season.
This isn't a list of which players I would take on my team, which players I think are the best, or a ranking of what the player has done for his career. It's just going off what the player did last year and where I would rank them heading into this season.
Injuries matter here. If the player didn't play, he's not going to be ranked high. I don't care if his name is Tom Brady.
Rookies are always ranked low. They haven't played a snap in the league yet folks. The unknown doesn't get ranked above what we've already seen on-the-field.
Simple enough?
Good, because we have lift off……….
32. A.J. McCarron (Buffalo Bills)
Age: 27
Career Yards: 920
Career Touchdowns: 6
Career QB Rating: 93.6
Touchdowns Thrown (2017-18): 0
Yards Thrown (2017-18): 66
Completion Percentage (2017-18): 50.0
QB Rating (17-18): 63.4
ProFootballFocus.com's Position Rating for 2017-18: Not ranked
Previous Rankings: Not ranked
---
31. Sam Bradford (Arizona Cardinals)
Age: 30
Career Yards: 19,049
Career Touchdowns: 101
Career QB Rating: 85.1
Touchdowns Thrown (2017-18): 3
Yards Thrown (2017-18): 382
Completion Percentage (2017-18): 74.4
QB Rating (17-18): 124.4
ProFootballFocus.com's Position Rating for 2017-18: Not ranked
Previous Rankings: 18th (2017), 25th (2016), 25th (2015)
---
30. Ryan Tannehill (Miami Dolphins)
Age: 29
Career Yards: 18,455
Career Touchdowns: 106
Career QB Rating: 86.5
Touchdowns Thrown (2017-18): Didn't play (Injured)
Yards Thrown (2017-18): Didn't play (Injured)
Completion Percentage (2017-18): Didn't play (Injured)
QB Rating (17-18): Didn't play (Injured)
ProFootballFocus.com's Position Rating for 2017-18: Not ranked
Previous Rankings: 23rd (2017), 17th (2016), 14th (2015)
---
29. Andrew Luck (Indianapolis Colts)
Age: 28
Career Yards: 19,078
Career Touchdowns: 132
Career QB Rating: 87.3
Touchdowns Thrown (2017-18): Didn't play (Injured)
Yards Thrown (2017-18): Didn't play (Injured)
Completion Percentage (2017-18): Didn't play (Injured)
QB Rating (17-18): Didn't play (Injured)
ProFootballFocus.com's Position Rating for 2017-18: Not ranked
Previous Rankings: 5th (2017), 18th (2016), 2nd (2015)
---
28. Patrick Mahomes (Kansas City Chiefs)
Age: 22
Career Yards: 284
Career Touchdowns: 0
Career QB Rating: 76.4
Touchdowns Thrown (2017-18): 0
Yards Thrown (2017-18): 284
Completion Percentage (2017-18): 62.9
QB Rating (17-18): 76.4
ProFootballFocus.com's Position Rating for 2017-18: Not ranked
Previous Rankings: Not ranked
---
27. Jimmy Garoppolo (San Francisco 49ers)
Age: 26
Career Yards: 2,250
Career Touchdowns: 12
Career QB Rating: 99.7
Touchdowns Thrown (2017-18): 7
Yards Thrown (2017-18): 1,560
Completion Percentage (2017-18): 67.4
QB Rating (17-18): 96.2
ProFootballFocus.com's Position Rating for 2017-18: 10th
Previous Rankings: Not ranked
---
26. Mitch Trubisky (Chicago Bears)
Age: 23
Career Yards: 2,193
Career Touchdowns: 7
Career QB Rating: 77.5
Touchdowns Thrown (2017-18): 7
Yards Thrown (2017-18): 2,193
Completion Percentage (2017-18): 59.4
QB Rating (17-18): 77.5
ProFootballFocus.com's Position Rating for 2017-18: 26th
Previous Rankings: Not ranked
---
25. Aaron Rodgers (Green Bay Packers)
Age: 34
Career Yards: 38,502
Career Touchdowns: 313
Career QB Rating: 103.8
Touchdowns Thrown (2017-18): 16
Yards Thrown (2017-18): 1,675
Completion Percentage (2017-18): 64.7
QB Rating (17-18): 97.2
ProFootballFocus.com's Position Rating for 2017-18: 11th
Previous Rankings: 2nd (2017), 3rd (2016), 1st (2015)
---
24. Deshaun Watson (Houston Texans)
Age: 22
Career Yards: 1,699
Career Touchdowns: 19
Career QB Rating: 103.0
Touchdowns Thrown (2017-18): 19
Yards Thrown (2017-18): 1,699
Completion Percentage (2017-18): 61.8
QB Rating (17-18): 103.0
ProFootballFocus.com's Position Rating for 2017-18: 30th
Previous Rankings: Not ranked
---
23. Tyrod Taylor (Cleveland Browns)
Age: 28
Career Yards: 9,056
Career Touchdowns: 51
Career QB Rating: 91.2
Touchdowns Thrown (2017-18): 14
Yards Thrown (2017-18): 2,799
Completion Percentage (2017-18): 62.6
QB Rating (17-18): 89.2
ProFootballFocus.com's Position Rating for 2017-18: 14th
Previous Rankings: 26th (2017), 21st (2016)
---
22. Joe Flacco (Baltimore Ravens)
Age: 33
Career Yards: 35,780
Career Touchdowns: 200
Career QB Rating: 84.1
Touchdowns Thrown (2017-18): 18
Yards Thrown (2017-18): 3,141
Completion Percentage (2017-18): 64.1
QB Rating (17-18): 80.4
ProFootballFocus.com's Position Rating for 2017-18: 24th
Previous Rankings: 17th (2017), 26th (2016), 11th (2015)
---
21. Josh McCown (New York Jets)
Age: 38
Career Yards: 17,168
Career Touchdowns: 97
Career QB Rating: 80.8
Touchdowns Thrown (2017-18): 18
Yards Thrown (2017-18): 2,926
Completion Percentage (2017-18): 67.3
QB Rating (17-18): 94.5
ProFootballFocus.com's Position Rating for 2017-18: 23rd
Previous Rankings: 29th (2017)
---
20. Marcus Mariota (Tennessee Titans)
Age: 24
Career Yards: 9,476
Career Touchdowns: 58
Career QB Rating: 88.6
Touchdowns Thrown (2017-18): 13
Yards Thrown (2017-18): 3,232
Completion Percentage (2017-18): 62.0
QB Rating (17-18): 79.3
ProFootballFocus.com's Position Rating for 2017-18: 12th
Previous Rankings: 13th (2017), 22nd (2016), 23rd (2015)
---
19. Eli Manning (New York Giants)
Age: 37
Career Yards: 51,682
Career Touchdowns: 339
Career QB Rating: 83.5
Touchdowns Thrown (2017-18): 19
Yards Thrown (2017-18): 3,468
Completion Percentage (2017-18): 61.6
QB Rating (17-18): 80.4
ProFootballFocus.com's Position Rating for 2017-18: 28th
Previous Rankings: 14th (2017), 13th (2016), 10th (2015)
---
18. Cam Newton (Carolina Panthers)
Age: 29
Career Yards: 25,074
Career Touchdowns: 158
Career QB Rating: 85.3
Touchdowns Thrown (2017-18): 22
Yards Thrown (2017-18): 3,302
Completion Percentage (2017-18): 59.1
QB Rating (17-18): 80.7
ProFootballFocus.com's Position Rating for 2017-18: 22nd
Previous Rankings: 22nd (2017), 2nd (2016), 16th (2015)
---
17. Blake Bortles (Jacksonville Jaguars)
Age: 26
Career Yards: 14,928
Career Touchdowns: 90
Career QB Rating: 80.8
Touchdowns Thrown (2017-18): 21
Yards Thrown (2017-18): 3,687
Completion Percentage (2017-18): 60.2
QB Rating (17-18): 84.7
ProFootballFocus.com's Position Rating for 2017-18: 20th
Previous Rankings: 24th (2017), 15th (2016), 27th (2015)
---
16. Derek Carr (Oakland Raiders)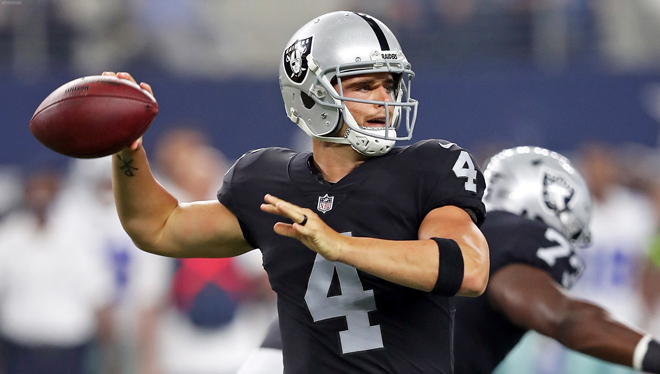 Age: 27
Career Yards: 14,690
Career Touchdowns: 103
Career QB Rating: 87.5
Touchdowns Thrown (2017-18): 22
Yards Thrown (2017-18): 3,496
Completion Percentage (2017-18): 62.7
QB Rating (17-18): 86.4
ProFootballFocus.com's Position Rating for 2017-18: 21st
Previous Rankings: 11th (2017), 16th (2016), 19th (2015)
---
15. Andy Dalton (Cincinnati Bengals)
Age: 30
Career Yards: 25,534
Career Touchdowns: 167
Career QB Rating: 88.7
Touchdowns Thrown (2017-18): 25
Yards Thrown (2017-18): 3,320
Completion Percentage (2017-18): 59.9
QB Rating (17-18): 86.6
ProFootballFocus.com's Position Rating for 2017-18: 18th
Previous Rankings: 19th (2017), 9th (2016), 20th (2015)
---
14. Dak Prescott (Dallas Cowboys)
Age: 24
Career Yards: 6,991
Career Touchdowns: 45
Career QB Rating: 95.5
Touchdowns Thrown (2017-18): 22
Yards Thrown (2017-18): 3,324
Completion Percentage (2017-18): 62.9
QB Rating (17-18): 86.6
ProFootballFocus.com's Position Rating for 2017-18: 17th
Previous Rankings: 15th (2017)
---
13. Jameis Winston (Tampa Bay Buccaneers)
Age: 24
Career Yards: 11,636
Career Touchdowns: 69
Career QB Rating: 87.2
Touchdowns Thrown (2017-18): 19
Yards Thrown (2017-18): 3,504
Completion Percentage (2017-18): 63.8
QB Rating (17-18): 92.2
ProFootballFocus.com's Position Rating for 2017-18: 16th
Previous Rankings: 10th (2017), 12th (2016), 22nd (2015)
---
12. Matt Ryan (Atlanta Falcons)
Age: 33
Career Yards: 41,796
Career Touchdowns: 260
Career QB Rating: 93.4
Touchdowns Thrown (2017-18): 20
Yards Thrown (2017-18): 4,095
Completion Percentage (2017-18): 64.7
QB Rating (17-18): 91.4
ProFootballFocus.com's Position Rating for 2017-18: 2nd
Previous Rankings: 1st (2017), 8th (2016), 5th (2015)
---
11. Carson Wentz (Philadelphia Eagles)
Age: 25
Career Yards: 7,078
Career Touchdowns: 49
Career QB Rating: 88.8
Touchdowns Thrown (2017-18): 33
Yards Thrown (2017-18): 3,296
Completion Percentage (2017-18): 60.2
QB Rating (17-18): 101.9
ProFootballFocus.com's Position Rating for 2017-18: 5th
Previous Rankings: 20th (2017)
---
10. Ben Roethlisberger (Pittsburgh Steelers)
Age: 36
Career Yards: 51,065
Career Touchdowns: 329
Career QB Rating: 94.0
Touchdowns Thrown (2017-18): 28
Yards Thrown (2017-18): 4,251
Completion Percentage (2017-18): 64.2
QB Rating (17-18): 93.4
ProFootballFocus.com's Position Rating for 2017-18: 4th
Previous Rankings: 7th (2017), 4th (2016), 3rd (2015)
---
9. Kirk Cousins (Minnesota Vikings)
Age: 29
Career Yards: 16,206
Career Touchdowns: 99
Career QB Rating: 93.7
Touchdowns Thrown (2017-18): 27
Yards Thrown (2017-18): 4,093
Completion Percentage (2017-18): 64.3
QB Rating (17-18): 93.9
ProFootballFocus.com's Position Rating for 2017-18: 19th
Previous Rankings: 6th (2017), 11th (2016)
---
8. Case Keenum (Denver Broncos)
Age: 30
Career Yards: 8,771
Career Touchdowns: 46
Career QB Rating: 86.0
Touchdowns Thrown (2017-18): 22
Yards Thrown (2017-18): 3,547
Completion Percentage (2017-18): 67.6
QB Rating (17-18): 98.3
ProFootballFocus.com's Position Rating for 2017-18: 9th
Previous Rankings: Not ranked
---
7. Jared Goff (Los Angeles Rams)
Age: 23
Career Yards: 4,893
Career Touchdowns: 33
Career QB Rating: 89.4
Touchdowns Thrown (2017-18): 28
Yards Thrown (2017-18): 3,804
Completion Percentage (2017-18): 62.1
QB Rating (17-18): 100.5
ProFootballFocus.com's Position Rating for 2017-18: 15th
Previous Rankings: 32nd (2017), 28th (2016)
---
6. Russell Wilson (Seattle Seahawks)
Age: 29
Career Yards: 22,176
Career Touchdowns: 161
Career QB Rating: 98.8
Touchdowns Thrown (2017-18): 34
Yards Thrown (2017-18): 3,983
Completion Percentage (2017-18): 61.3
QB Rating (17-18): 95.4
ProFootballFocus.com's Position Rating for 2017-18: 6th
Previous Rankings: 12th (2017), 5th (2016), 8th (2015)
---
5. Alex Smith (Washington Redskins)
Age: 34
Career Yards: 31,888
Career Touchdowns: 183
Career QB Rating: 87.4
Touchdowns Thrown (2017-18): 26
Yards Thrown (2017-18): 4,042
Completion Percentage (2017-18): 67.5
QB Rating (17-18): 104.7
ProFootballFocus.com's Position Rating for 2017-18: 6th
Previous Rankings: 21st (2017), 20th (2016), 17th (2015)
---
4. Matthew Stafford (Detroit Lions)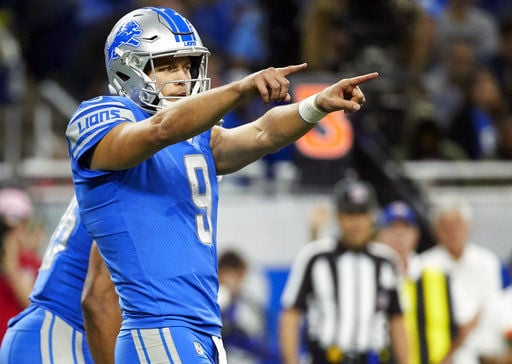 Age: 30
Career Yards: 34,749
Career Touchdowns: 216
Career QB Rating: 88.3
Touchdowns Thrown (2017-18): 29
Yards Thrown (2017-18): 4,446
Completion Percentage (2017-18): 65.7
QB Rating (17-18): 99.3
ProFootballFocus.com's Position Rating for 2017-18: 13th
Previous Rankings: 9th (2017), 14th (2016), 13th (2015)
---
3. Philip Rivers (Los Angeles Chargers)
Age: 36
Career Yards: 50,348
Career Touchdowns: 342
Career QB Rating: 94.8
Touchdowns Thrown (2017-18): 28
Yards Thrown (2017-18): 4,515
Completion Percentage (2017-18): 62.6
QB Rating (17-18): 96.0
ProFootballFocus.com's Position Rating for 2017-18: 8th
Previous Rankings: 8th (2017), 10th (2016), 7th (2015)
---
2. Drew Brees (New Orleans Saints)
Age: 39
Career Yards: 70,445
Career Touchdowns: 488
Career QB Rating: 96.7
Touchdowns Thrown (2017-18): 23
Yards Thrown (2017-18): 4,334
Completion Percentage (2017-18): 72.0
QB Rating (17-18): 103.9
ProFootballFocus.com's Position Rating for 2017-18: 2nd
Previous Rankings: 3rd (2017), 6th (2016), 6th (2015)
---
1.  Tom Brady (New England Patriots)
Age: 40
Career Yards: 66,159
Career Touchdowns: 488
Career QB Rating: 97.6
Touchdowns Thrown (2017-18): 32
Yards Thrown (2017-18): 4,577
Completion Percentage (2017-18): 66.3
QB Rating (17-18): 102.8
ProFootballFocus.com's Position Rating for 2017-18: 1st
Previous Rankings: 4th (2017), 1st (2016), 4th (2015)