We are back for a fourth straight year everyone! Yes, it's time once again to power rank every single coach in college football by conference. Everyone knows that in the game of football, the head coach position is arguably the most important position on the team.
If the guy who is calling the shots doesn't have a good football brain on his shoulders, there's a good chance your favorite team is dragging ass on the college football field. Head coaching is extremely important in the game of football, especially in the college world where the guy is not only expected to produce on the field, but also win over high-profile recruits and convince them to join their squad.
Being a head coach of a college football team is pretty much a 24/7 job. You're always having to recruit and if you aren't recruiting, you're practicing with your team or watching game film. There are a limited number of people who become successful head coaches in college football for a reason, it's a difficult job. With all that said, these are the guys who are the best at their jobs ranked via conference for the fourth year in a row here at THE USB! There's a great chance that whoever is ranked #1 on these lists will finish high when the season is all said and done. Those are the horses you are going to want to back.
SO HERE WE ARE EVERYONE!
THE FOURTH ANNUAL USB COLLEGE FOOTBALL HEAD COACH POWER RANKINGS!!!!!!!
Up next? My personal favorite conference. A conference that had a horrible year last year, BUT THEY WILL REBOUND FOLKS! Yes, it's the PAC-12!!!!!!!
12. Jonathan Smith (Oregon State Beavers)
Overall Record: 0-0
Record With Team: 0-0
Record in Bowls: 0-0
Championships (as a head coach): None
Other FBS Div-1 Head Coaching Jobs: None
Conference Recruiting Rankings: 12th
Previous Rankings: Not ranked
---
11. Herm Edwards (Arizona State Sun Devils)
Overall Record: 0-0
Record With Team: 0-0
Record in Bowls: 0-0
Championships (as a head coach): None
Other FBS Div-1 Head Coaching Jobs: None
Conference Recruiting Rankings: 6th
Previous Rankings: Not ranked
---
10. Kevin Sumlin (Arizona Wildcats)
Overall Record: 86-43
Record With Team: 0-0
Record in Bowls: 4-3
Championships (as a head coach): None
Other FBS Div-1 Head Coaching Jobs: Houston (2008-2011), Texas A&M (2012-2017)
Conference Recruiting Rankings: 11th
Previous Rankings: Not ranked
---
9. Mario Cristobal (Oregon Ducks)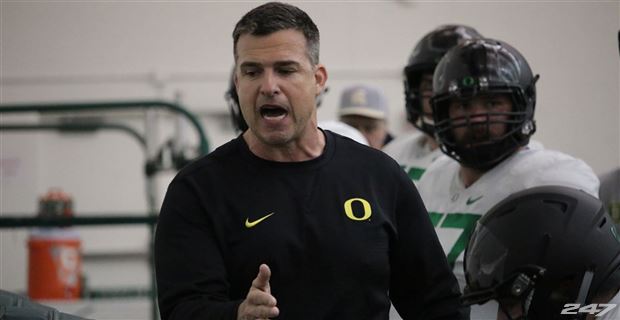 Overall Record: 27-48
Record With Team: 0-1
Record in Bowls: 1-2
Championships (as a head coach): Sun Belt Conference Title (2010)
Other FBS Div-1 Head Coaching Jobs: Florida International (2007-2012)
Conference Recruiting Rankings: 3rd
Previous Rankings: Not ranked
---
8. Chip Kelly (UCLA Bruins)
Overall Record: 46-7
Record With Team: 0-0
Record in Bowls: 2-2
Championships (as a head coach): PAC 12 Conference Title (2011), PAC 12 Conference Title (2010), PAC 12 Conference Title (2009)
Other FBS Div-1 Head Coaching Jobs: Oregon (2009-2012)
Conference Recruiting Rankings: 4th
Previous Rankings: Not ranked
---
7. Mike MacIntyre (Colorado Buffaloes)
Overall Record: 40-59
Record With Team: 25-38
Record in Bowls: 0-1
Championships (as a head coach): None
Other FBS Div-1 Head Coaching Jobs: San Jose State (2010-2012)
Conference Recruiting Rankings: 10th
Previous Rankings: 4th (2017), 12th (2016), 12th (2015)
---
6. Justin Wilcox (California Golden Bears)
Overall Record: 5-7
Record With Team: 5-7
Record in Bowls: 0-0
Championships (as a head coach): None
Other FBS Div-1 Head Coaching Jobs: None
Conference Recruiting Rankings: 8th
Previous Rankings: 10th (2017)
---
5. Kyle Whittingham (Utah Utes)
Overall Record: 111-56
Record With Team: 111-56
Record in Bowls: 11-1
Championships (as a head coach): Mountain West Conference Title (2008)
Other FBS Div-1 Head Coaching Jobs: None
Conference Recruiting Rankings: 5th
Previous Rankings: 6th (2017), 3rd (2016), 6th (2015)
---
4. Mike Leach (Washington State Cougars)
Overall Record: 122-81
Record With Team: 38-38
Record in Bowls: 6-7
Championships (as a head coach): None
Other FBS Div-1 Head Coaching Jobs: Texas Tech (2000-2009)
Conference Recruiting Rankings: 9th
Previous Rankings: 5th (2017), 5th (2016), 10th (2015)
---
3. David Shaw (Stanford Cardinal)
Overall Record: 73-22
Record With Team: 73-22
Record in Bowls: 4-3
Championships (as a head coach): PAC 12 Conference Title (2015), PAC 12 Conference Title (2013), PAC 12 Conference Title (2012)
Other FBS Div-1 Head Coaching Jobs: None
Conference Recruiting Rankings: 7th
Previous Rankings: 2nd (2017), 1st (2016), 2nd (2015)
---
2. Chris Petersen (Washington Huskies)
Overall Record: 129-29
Record With Team: 37-17
Record in Bowls: 6-5
Championships (as a head coach): PAC 12 Conference Title (2016), Mountain West Conference Title (2012), WAC Conference Title (2010), WAC Conference Title (2009), WAC Conference Title (2008), WAC Conference Title (2006)
Other FBS Div-1 Head Coaching Jobs: Boise State (2006-2013)
Conference Recruiting Rankings: 2nd
Previous Rankings: 1st (2017), 7th (2016), 7th (2015)
---
1. Clay Helton (USC Trojans)
Overall Record: 27-10
Record With Team: 27-10
Record in Bowls: 2-2
Championships (as a head coach): PAC 12 Conference Title (2017)
Other FBS Div-1 Head Coaching Jobs: None
Conference Recruiting Rankings: 1st
Previous Rankings: 3rd (2017), 6th (2016)