The following piece was submitted by my good buddy and one of the biggest wrestling fans I know, Todd Bergman. Give the man a follow on the Twitter machine. He will greatly appreciate it. Now it's time to get down to business…….
This weekend, the annual rite of passage known as WrestleMania takes place in beautiful New Orleans, Lousiana. The 34th installment or WrestleMania Fleur de lis as the logo would suggest is headlined by Brock Lesnar vs. Roman Reigns and a dream match between AJ Styles and Shinsuke Nakamura. You will notice that there are so many WrestleMania prediction articles out there, that I do not want to do another bland remake. Instead, I am going to put on my "booker" hat and predict what I would have happen if I were in the small seat next to Stephanie's big seat in the creative room. With that said, my writing of the show will still encompass all of the previously booked segments leading up to WrestleMania. This means that I cannot change matches just because I don't like someone in it. This could fall into the dangerous field of "fantasy booking" which scares off some of the most hardcore of fans. I will include the WWE logic section like I did last year, to pacify the couple of you that really hate a fantasy booking article. Readers be warned: this article will feature plenty of snark and fun. Anyway, let's get into the mad wrestling world that I have in my head.
Andre The Giant Memorial Battle Royal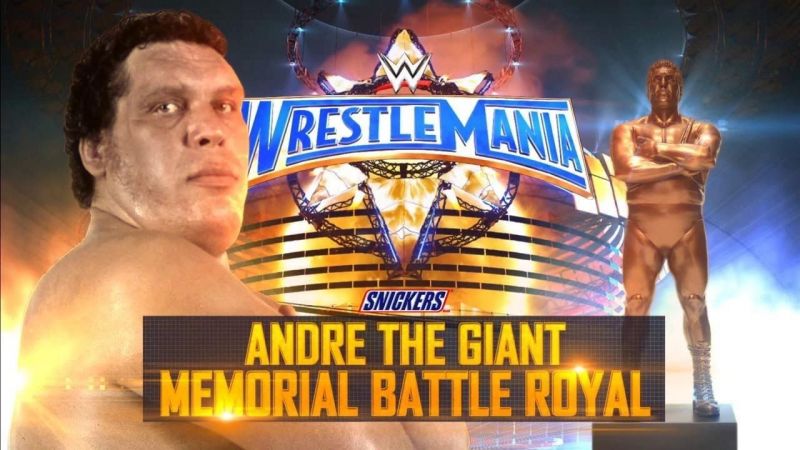 There are a lot of participants into this match and this is a good chance to get everyone on the card. There are truly only two people that I would book into winning this battle royal. I think that those two are Big Show or Matt Hardy. Clearly Matt Hardy is a better option just for the sake of the video segments that could take place with Hardy talking to the trophy. You get more out of Matt Hardy winning this thing than anyone else in the field. He is insanely popular despite the lack of support the writing team has given him. The title of "Andre The Giant Memorial Battle Royal" winner is not something that carries a lot of weight. In fact, there are too many battle royals in the WWE now with this one along with the women's and now the "Greatest" Battle Royal or whatever they are calling the one coming up. It really hurts the overall Royal Rumble as it was once a novelty in the world of pro wrestling. If this starts the show then it gives the crowd something to care about nearly 2 hours before the real show starts. Hardy for the win and I probably have Vanguard 1 help out or something to further this.
My pick: Matt Hardy
WWE Logic: Big Cass wins because Vince still doesn't understand Matt Hardy
---
Women's Battle Royal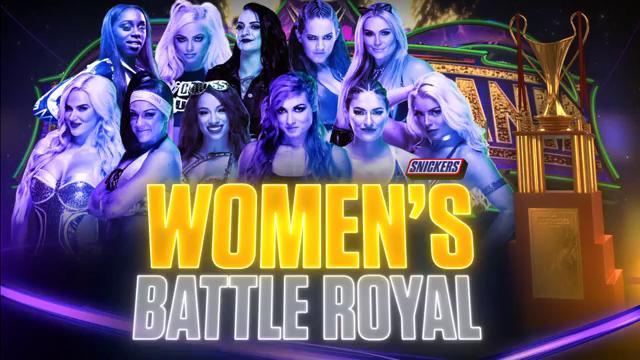 I would have found another legendary women's wrestler to name this after. Maybe the Wendy Richter Memorial Battle Royal or something along those lines. With that said, I also would have found a way to better design the winner's trophy as the current one looks like the female anatomy poster that you see in 8th grade Sexual Education class. It's truly a shame as this match should mean more but just a couple of months ago, you had the Women's Royal Rumble match that had a tremendous amount of weight carried towards the winner. This match legitimacy is a space filler to get everyone on the show. The same rules apply here in this match as well. You logically have two options to winning this match in my opinion. Bayley or Sasha Banks. I would write Sasha Banks to win this match because it better solidifies her character. Bayley had the big WrestleMania win last year while Sasha is 0-2 while having some pretty cool entrances. To keep up with the current writing, I would have Bayley try to dump Sasha while she is not looking only for Sasha to skin the cat and hang out. Bayley thinks that she has won and turns her back on Sasha and then she gets dumped. It moves the story along and continues on the way towards some pretty good matches during the Summer.
My pick: Sasha Banks
WWE Logic: Nikki Bella because she sold the wrong knee (she was kicked in the other knee while holding the opposite knee) after Asuka eliminated her at Royal Rumble.
---
WWE Cruiserweight Title Match
Cedric Alexander vs. Mustafa Ali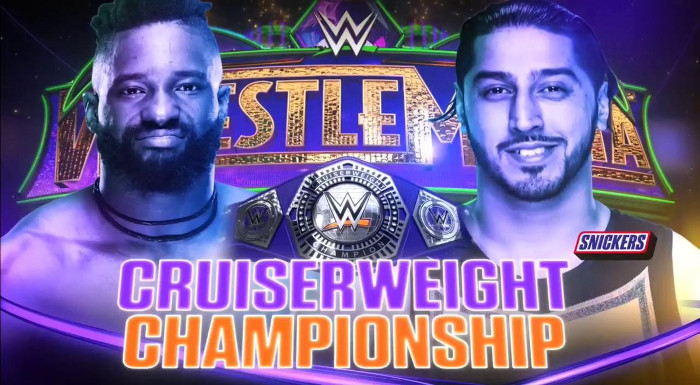 Putting this match on the pre-show is not the way to go. I would include this match following one of the bigger matches so that it gets the Cruiserweights into the sets of eyes that are not watching 205 Live. With the timeslot of 205 Live, it is hard to get the casual audience to watch. The opportunity to get this match following something like an Asuka vs. Charlotte or the mixed tag match featuring Ronda Rousey would be great for the 205 Live brand. While I am not the guy in charge of that, I oversee this article and I would have Cedric Alexander win the title following his long road to getting here. Cedric made Enzo believable in the aspect of being a decent wrestler, so you need to reward him. I have both guys work at an incredible rate like they have previously with each other and have Cedric go over cleanly in the end.
My pick: Cedric Alexander by pinfall
WWE Logic: Mustafa Ali by surprise roll up in 6 minutes
---
WWE United States Championship Fatal Four Way Match
Randy Orton © vs. Bobby Roode vs. Jinder Mahal vs. Rusev
The addition of Rusev was much welcomed and he really deserves to be in this spot given his ability to creatively market his character while having no support from creative. I would write Rusev to win the match because of the limited time that he has in this window to be popular with the fans. Giving him a credible win will help elevate him back into the upper threshold like he was a couple of years ago when he rode in on a tank. You of course remember that he lost to Cena and effectively killed any momentum that he was going to have for years to come. This could lead to some fun match ups with Bobby Roode and others on the Smackdown Brand. Randy will be just fine with the loss and Jinder will continue to be the muscled up guy who struggles to wrestle given his mass.
My pick: Rusev….day by submission over Jinder
WWE Logic: Jinder wins by pinning Rusev because muscles are greater than fan enjoyment
---
WWE Intercontinental Championship Triple Threat Match
The Miz © vs. Finn Balor vs. Seth Rollins
If Finn Balor is going to be the next big star and not stuck in neutral then he needs to win here. The writing staff has been very hit or miss on Finn so that could make someone nervous about him winning here. I would like to see more match ups between Finn and The Miz and that could include the Balor Club & The Miztourage. The matches have happened quite a bit but I think that it still has some legs to go on here. Seth doesn't need to win, simply a good showing and you could move him back into the Universal Title picture with Roman (spoiler alert). Let's give the title to Finn and this could lead to a 2 out of 3 falls match at SummerSlam against The Miz.
My pick: Finn Balor
WWE Logic: Seth Rollins
---
WWE Smackdown Tag Team Title Match-Triple Threat Match
The Usos © vs. The New Day vs. Bludgeon Brothers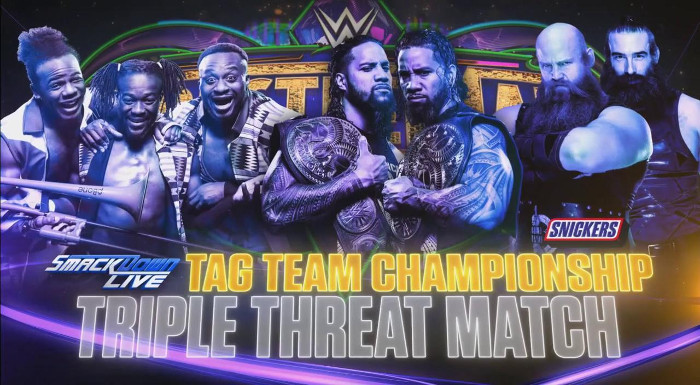 The Smackdown Tag Team division has been the better of the two brands. This is thanks in large part to The Usos being so damn good. Given the previous booking of the Bludgeon Brothers, I would write them to win this match and carry them into a feud with the Authors of Pain (hoss match ups!!). I would outline the match to have the Bludgeon Brothers lay out all other members of the opposing teams with their tag finishers to further sell the destruction of these two. The double B's have been so dominant and having them lose this match would kill any of the momentum that they have built up. The Usos and New Day will be just fine with a good showing in this match. The only cause for concern that I would have with The New Day losing here is that they are starting to get a little stale. They have previously gotten a stale feeling and they were good enough to overcome it with their mic skills and relatability. You are certainly entering the danger zone with The New Day and the writing team needs to be careful here. It feels time for The Usos and New Day to move on to Raw in the draft and that would allow for them to have some new match ups and freshen up the scene a little bit.
My Pick: Bludgeon Brothers via destruction
WWE Logic: The New Day because new day rocks
---
WWE Raw Tag Team Title Match
The Bar © vs. Braun Strowman and ???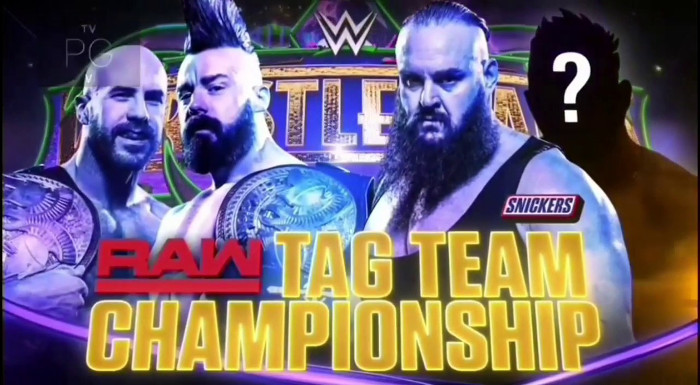 The intrigue here is that who is Braun's partner going to be. I would pair him up with Curt Hawkins and let them ride the wave of Braun's massive popularity. I still am not sure how long Braun will stay popular, so you cash in while you can. The pairing of Hawkins & Braun gives the fans a lot and could lead to Hawkins being viewed as something more than a loveable loser. The Bar have been wonderful champs and they can always win it back at SummerSlam to get Braun out of the tag title picture and back into the Universal Title picture. The finish would include Braun hitting both Bar members and Curt Hawkins with the running power slam with Hawkins falling lastly on top of The Bar members giving his team the win. Hawkins can claim that he won the titles for the team while playing off the dominance of Braun.
My Pick: Braun Strowman
WWE Logic: Braun is winning no matter but they will likely put him with Big Cass, Big Show or Mark Henry
---
Special Attraction Mixed Tag Match
Kurt Angle/Ronda Rousey vs. Triple H/Stephanie McMahon
Since Stephanie is coming out of the big chair in the writing room for this match, I am going to say that she should get ZERO offense on Rousey in this match. It only hurts the aura of Rousey is someone like Stephanie does anything to hurt her. A once a year wrestler, who was always written to be weaker than any other female competitor should not be made to look strong against one of our generations most dominant female athletes. In the breakdown of the match, I would let Angle/Triple H work most of it so that way Ronda/Stephanie do not have to be exposed. The finish should see Angle putting Triple H in the Ankle Lock while Ronda puts Stephanie in the arm bar with both tapping out simultaneously. Then you can have The Authority passing off the tap outs leading to The Authority putting out a hit on Rousey through the Summer.
My Pick: Kurt Angle/Ronda Rousey via simultaneous submissions
WWE Logic: Angle/Rousey but not before Triple H & Steph dominate the match
---
Tag Team Grudge Match
Daniel Bryan/Shane McMahon vs. Kevin Owens/Sami Zayn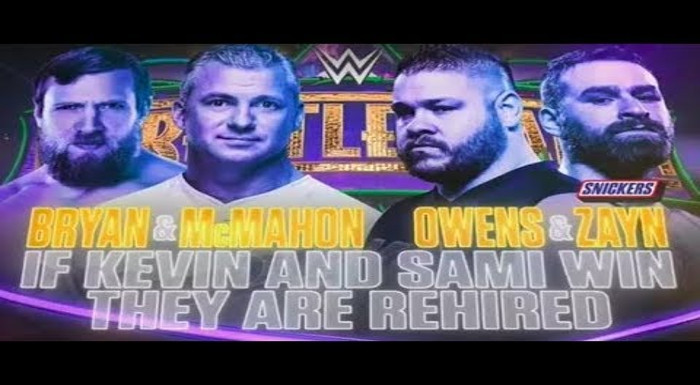 How can you not be excited for Daniel Bryan to return to the ring? Oh, you mean that he is teaming with Shane McMahon. The concept of the match is that Owens/Zayn are outsiders here trying to win back their jobs on Smackdown Live. With Bryan being newly released from restrictions, I would be super careful with him in this match. In the same breath, his partner is Shane McMahon and he is injured as well. For the sake of everyone involved, the match should be quick. Let Owens/Zayn beat up both guys for an extended time and then have Daniel make his comeback and get the tap out on Zayn. Shane announced previously that he is stepping away so he will not be in the picture anymore. Daniel is an active competitor now, so you need a new Smackdown Live GM. Whether that is Hulk Hogan, Jeff Jarrett or someone else they can re-hire Owens and Zayn on the first Smackdown Live after WrestleMania. Both could go to Raw as well even though that is not ideal given how well they have done on Smackdown.
My Pick: Daniel Bryan/Shane McMahon via submission
WWE Logic: Shane turns of Daniel so that we have another show of Evil McMahon's.
---
WWE Smackdown Women's Title Match
Charlotte Flair © vs. Asuka
The booking of this "dream match" has been super clunky and just a reflection of the lack of originality from the writing team. The problem will be fixed with my booking of this match. You let this match go 20+ mins and let the crowd get involved. Charlotte works over Asuka's legs while Asuka works over the upper torso. In the end, Charlotte goes for the Natural Selection and misses while Asuka transitions to the Asuka lock and you have a new champion. Both shake hands following the match and the rivalry continues towards another IronMan (calling it an IronWoman match would be stupid) match at an upcoming show. To further sell the dominance of Asuka, I have Carmella try to cash in her money in the bank and immediately get submitted as well.
My Pick: Asuka via submission
WWE Logic: Asuka wins but then Charlotte attacks her post match leading to an unsuccessful money in the bank cash in for Carmella. They both were not ready for Asuka.
---
WWE RAW Women's Title Match
Alexa Bliss © vs. Nia Jax
Alexa has been great and really deserves to be in a better match at WrestleMania. Nia Jax, who we know is not like most girls, has not been that great. It is hard for me to get behind Nia because when she has had momentum before, it has been stopped immediately. Nia was essentially booked into this match because they had nothing else to do. The trend lately from the booking team is to have these short team feuds branch off at WrestleMania instead of the long- term feud culminate at WrestleMania. Since I am booking this how, I am having Alexa Bliss win via some outside interference from Mickie James. I would have Nia dominate the match but fall victim to being distracted leading to a roll up pin. Alexa keeps the title and then moves on to feud with Sasha Banks.
My Pick: Alexa Bliss via rollup. Jax attacks post-match and then Carmella cashes in and wins the title
WWE Logic: Nia Jax wins in 10 seconds because she is not like most girls
---
WWE Championship
AJ Styles© vs. Shinsuke Nakamura
For me, this is the main event of WrestleMania. I have waited for this match since their epic showdown at NJPW Wrestle Kingdom 10. While the lead up to this match has not been great due to the lack of long term book from the writing team, this match has the possibility of ranking up there with Savage vs. Steamboat from WrestleMania 3. Styles has carried his weight when it comes to great matches in the WWE. Nakamura on the other hand has not had a great match in the WWE, in my opinion since his match up with Sami Zayn at NXT Takeover: Dallas. It will be up to Nakamura to bring his "A" game in this match. If Nakamura can get to that level again, I would like to see this match go 30 mins of back and forth action that brings the SuperDome crowd to its feet. Nakamura would be my pick to win this match and AJ should spend the summer chasing him for the title. They can rematch at SummerSlam and even Survivor Series leading to AJ winning the title back.
My Pick: Shinsuke Nakamura
WWE Logic: AJ Styles via cheating because he is emotional
---
John Cena vs. The Undertaker Angle
You know that this match is going to happen and it has been a weird way of getting to this match. I would bring The Undertaker back as his American Badass gimmick and give him one more run at the title following this match. Cena has done a nice job to gain interest in this match and the personal attacks allow for Taker to come in with his less than mystical Undertaker gimmick. With the American Badass gimmick, Taker can use a more brawling style in the match and it won't feel as bad when he goes over the line and uses weapons to win the match. I say this because you wouldn't expect the "dead man" Undertaker to cheat because he is this unholy spirit. He shouldn't need it when he can throw lightning bolts and turn the lights on and off. As the more realistic, if that is possible Undertaker, he gains a human side to him. Cena has called out his man-hood and talked about his wife. While the dead man has shown more emotion in the last couple years with his gimmick, I think the match benefits more as two men brawling all over the arena. The match shouldn't be formal and really should feature The Undertaker beating the hell out of Cena all throughout the arena. Extra points if they can get Michelle McCool to attack Nikki Bella backstage to further this. The inclusion of the women into this storyline gives a vulnerability to both guys that they have not had before. Plus, you could build this story for next year's Mania by wetting our appetite for a real match next year and not just a brawl. Both guys should not be in a singles match with each other until next year's WrestleMania in New York. I hope that everyone can be excited about this.
My Pick: Not a formal match but Taker beats the hell out of Cena
WWE Logic: Cena wins an actual match following a valent effort from the aged Deadman.
---
WWE Universal Title Match
Brock Lesnar © vs. Roman Reigns
Listen, as I said above, I must stay in the context of the matches already made for this show. If I did not have to follow that, I would avoid this match. Putting this match on last is a mistake and I think that it will send the crowd home with a bad taste in their mouth. Much like Lesnar vs. Reigns at WrestleMania XX, I don't expect the crowd to be happy with this match. Nevertheless, I would book this match to be a rough style brawl with both guys getting a good amount of offense. I would have Reigns employ striking attacks to the body of Lesnar and wear him down before finally hitting the spear for the victory. Lesnar will leave for another attempt at the UFC since they need stars who don't throw objects at buses and ruin their upcoming shows. Reigns can go on to feud with Rollins, Strowman and Samoa Joe before dropping the title to The Undertaker at Royal Rumble. You read that correctly.
My Pick: Roman Reigns via pinfall
WWE Logic: Roman wins after Paul Heyman turns on Lesnar
Thanks for reading through this. I can only hope that the show is more entertaining than writing nearly 3500 words about it. I will return next year for my breakdown of WrestleMania Bronze Statue of Liberty. Remember to support your local wrestling shows, especially ones that promote Virgil.