The college football season is almost over. There are just a few weeks left (SAY WHA?????) and it's time to start cracking heads and splitting skulls.
College football fans are nuts guys. Outside of soccer and NFL fans, college football fans are the most sadistic bastards in sports. Some fans are so blood hungry for wins that they are willing to cut the head off a really good head coach and wear it proudly throughout the city. Every fan base has expectations, but college football fans might be the worst and it's not even close.
The following is a list of guys who will likely find themselves on the chopping block in a few weeks. Fair or not, it happens every year and we need to get ahead of the curve here…..
1. Kevin Sumlin (Texas A&M)
I'm a huge Kevin Sumlin guy and if you read this blog on a regular basis, you would know that. However, the SEC schools have an ungodly amount of expectations every year and Kevin Sumlin isn't pleasing A&M fans right now. A&M fans honestly feel that they should be just as good as Alabama every year and if they aren't, the problem is obviously the head coach. Kevin Sumlin is 49-25 all-time at A&M and has never had a losing season but YEAH LET'S FIRE HIS ASS! If A&M does fire Sumlin, they will be in the pits of SEC hell for years to come and they'll 100% deserve it. Sumlin is a great coach. Ya, he's not Nick Saban….but who is?
---
2. Bret Bielema (Arkansas)
Arkansas fans are not happy with Bret Bielema right now and they have every right to be. Once again, Bielema has Arkansas ready to finish as a middle-of-the-road SEC team. Five years in Fayetteville now and Bielema has never had a season better than 8-5. He's currently 29-31 all-time as head coach of the Razorbacks and you don't have to be a rocket scientist to figure out that that's not going to get the job done in the SEC. There's a real good chance that Arkansas finishes the season with a losing record and if that happens, don't be shocked if "Butt-Head" is sent packing down the road.
---
3. Butch Jones (Tennessee)
Tennessee was supposed to be pretty good this year guys. I had them pegged as a 10-2 team with potential playoff aspirations. This team was way too talented to just fall apart in my opinion. However, that's exactly what has happened this year. The Volunteers are currently 4-5 on the season, the fans are calling for Jones' head, and the program needs to stop the bleeding before it bleeds out and dies. If they lose this upcoming weekend to Missouri, the team should just leave Jones in Columbia, Missouri. The Volunteers were supposed to enter playoff contention this season and yet here they are wondering if they are even going to make a bowl game. See ya later Butch Jones.
---
4. Mike Riley (Nebraska)
Poor Mike Riley. He's probably one of the nicest guys in college football, but as we all know….nice guys finish last, especially in football. When Riley left Oregon State a few years back to take over the Nebraska program, it came as a shock to a lot of people. I like Riley as a head coach, but he's not an elite head coach and when he was handed the keys to the Nebraska program, it seemed like an odd fit. Nebraska fans have high expectations due to their history. Riley was just never going to meet those expectations in Nebraska. Why? Well, for one. Nebraska is no longer an elite job in college football. No offense to Nebraska fans, but college football kids aren't exactly DYING to go play football in Lincoln, Nebraska anymore. Times have changed and there are plenty of better options available. Nebraska is going to finish with a losing record this year and that will make 2 out of 3 seasons in Lincoln that Riley has had a losing record. Yep, see ya later buddy.
---
5. Jim Mora (UCLA)
People that know Jim Mora say that Mora is a hard cat to get along with. Being a hard ass is a great trait to have as a football head coach most of the time. However, if you want to be a hard ass, you must have had some success to help ease the pain. Kids will play for a hard ass like Nick Saban because they know they'll get to the NFL and also will likely win a shit load of college football games. Kids have a hard time playing for a guy like Mora, who acts like Saban but has nowhere near the credentials. Mora is a great recruiter and you can't deny that. However, the dude has been one big ball of disappointment as UCLA's head coach. UCLA has ZERO conference titles under Mora. They finished 4-8 last season and will likely finish 5-7 this year. If that happens, don't be shocked to see Mora sent packing. UCLA doesn't have very big expectations for their football team, but they have to be better than this.
---
6. Kliff Kingsbury (Texas Tech)
The former QB at Texas Tech was supposed to come in and be the savior for the program. He's a good-looking young guy who was one of the best players in the school's history. It just made total sense for Texas Tech to bring Kingsbury on board and give him the reigns to the team. We are currently five years into the experiment now and I can say with 100% certainty that the hire was not a good one. Kingsbury is an offensive-minded guy who will definitely find a place in the sport as an offensive coordinator, but I don't think he has the chops to be THE GUY that calls the shots. No offense to the guy, but it's just the truth. We are five years into the Kingsbury experiment and he's about to finish 5-7 and will only have 2 winning seasons out of 5 in Lubbock. Yes, he is a legend at Texas Tech and it'll be hard to see him go, but it's the right move if these guys are looking to improve their football team anytime soon.
---
7. David Beatty (Kansas)
Kansas sucks and they are arguably the worst POWER FIVE football team and it's not even close. Expectations for Kansas' football team just don't exist, but they should. YOU GUYS NEED TO BE BETTER THAN THIS!!!! It's been ten years now since Kansas made a bowl guys. TEN FUCKING YEARS!!!!! It's been three years since Kansas won more than two football games a year. THREE FUCKING YEARS!!!!! Something needs to change. Kansas has a losing culture and they need to bring in a guy who can help turn things around. I know it's Lawrence, Kansas and college football kids aren't exactly dying to play there….but these guys need to be better than they are.
---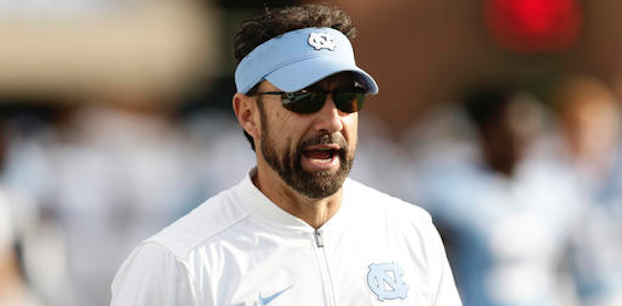 8. Larry Fedora (North Carolina)
Will North Carolina fire Larry Fedora? I doubt it. In his six years at UNC, Fedora is 41-33 and had a 11-3 record in 2015 that included a loss to Clemson in the ACC championship game. However, you can't help but think about the big step back this team has taken this year. Whenever a coach goes from 11 wins to 1 win in just the span of two years, something is going on. There are a lot of college football experts who think Fedora is in way over his head as the head coach of a power five program. If UNC finishes the season with only one victory, they will have dramatically stepped back in the grand scheme of things and the school will need to stop the bleeding before it gets any worse. Keep an eye on this situation folks. This is one to watch.
OK, now that we've talked about the guys who will likely be out of work this upcoming off-season, let's take a quick look at a group of guys who could be in line to potentially replace one of the above guys or potentially be in line for an even bigger job. These are the coaches who are doing exceptional jobs with what they've been given to work with this season:
Scott Frost (UCF): Frost is a former offensive coordinator at Oregon who took the UCF job in 2015. Frost took over a team that went 0-12 and didn't have a whole lot of expectations going forward. In just his second-year as head coach at UCF, Frost has the Knights 8-0 on the season and they WILL go undefeated in the regular season folks. If Frost manages to sneak the Knights into the playoffs (a LOOOOOONG shot even if they do go undefeated), this dude will be in line for the top available job in college football.
Mike Norvell (Memphis): Another coach from the AAC. Norvell has done a tremendous job since taking over the Tigers job. He's 16-6 in his two seasons as head coach and Memphis is a top-25 team at the moment. It wouldn't shock me one bit to see Norvell bolt Memphis this season and get a better job in a Power Five conference.
Matt Campbell (Iowa State): No offense to Iowa State, but even though the Cyclones are a Power Five team, they are near the bottom of the Power Five when it comes to relevancy. Campbell has done an excellent job in his two-years in Ames. Iowa State is a garbage dumpster of a program that hasn't won a bowl game in almost ten years. There is a small chance that Campbell could stay in Ames and stick it out, but what if a program like UCLA or Texas A&M comes calling? Hard to say no to those guys.
Chad Morris (SMU): Before Morris got to SMU, the Mustangs were not a good football team. SMU was fresh off a 1-11 season and things were not looking good for the future of the program. Enter Morris and here we are three seasons later and the Cowboys are not only a win away from bowl eligibility, but they are such a better team than they were three years ago that anyone looking for a coach has to step up and take notice. If Morris is hired at a place like Texas A&M, the fans will likely be disappointed, but they shouldn't be.
Bryan Harsin (Boise State): Boise State is a good job, but it has its limitations, just ask Washington head coach Chris Petersen. Harsin has done a tremendous job taking over for Petersen at Boise State so far and it might be time for him to parlay that into a Power Five gig. Harsin has to see what Petersen is doing in the PAC-12 and want the same kind of challenge for himself. I think he's peaked at Boise.
Rocky Long (San Diego State): It's gotta happen eventually right? Long has been at San Diego State for seven seasons now and you can only go 11-3 so many times before you need a new challenge.
Jason Candle (Toledo): Every year we have a MAC coach who has a great year and takes a better job at a bigger school. Two years ago, it was Matt Campbell leaving Toledo for Iowa State. Last year it was P.J. Fleck leaving Western Michigan for Minnesota. I hate to do it to Toledo fans again, but Jason Candle is leaving this off-season and will end up taking a job like Nebraska. History doesn't lie folks.
Thanks for reading. Be sure to check back once the COACHING CAROSUEL gets started for more of my awesome expertise and insight.