The NBA season is almost here. While the majority of people think the NBA season is already over before it even begins (let's just go ahead and crown the Golden State Warriors right now, right?). we still have to let the season play out because YOU NEVER KNOW WHAT CAN HAPPEN, RIGHT?
What if the Warriors are involved in some kind of freak accident and everyone gets hurt?
Well, the league just opened up for all 29 other teams to win the whole thing.
Even though I personally believe it would take a plane wreck to take the Warriors down, there are some NBA teams out there that think they have the tools and weapons to do exactly that.
Are the Sacramento Kings one of those teams? Nope. Not even close. The Sacramento Kings have been one of the NBA's biggest dumpster fires since Chris Webber/Vlade Divac/Peja Stojakovic/Mike Bibby/Bobby Jackson left town. Remember those days? Those were fun. The Sacramento Kings were one of the NBA's best watches on a consistent basis and those series with the Lakers were some of my all-time favorites. Since those glory days though, the Kings have been left scrambling to find themselves relevant in the NBA again, yet they consistently do dumb shit to push themselves further down the ladder. Case in point? Trading DeMarcus Cousins for Buddy Hield last year. Cousins is an established All-Star in the league. Yes, he is a little bit of a head case and is a difficult guy to play with, but the Kings SHOULD HAVE GOTTEN MORE IN RETURN FOR THE GUY! Buddy Hield sucks. One of the biggest jokes last year was the Kings' thinking Hield could blossom into the next Steph Curry. Please. Let's just go ahead and bury that idea for good. It was a dumb trade by the Kings that will set their franchise back even further. Who's their superstar now? Who's the guy who's taking the game over when they need it? Who's the guy who's putting the team on his back on a daily basis? The Kings suck y'all. Sacramento fans just have nothing to cheer for at the moment…except for Vince Carter who will always be one of the "GOATS" in the NBA.
Just how bad will the Kings be this season in my opinion?
LET'S FIND OUT!!!!!!!!!
Record Last Five Seasons: 28-54 (2012-13), 28-54 (2013-14), 29-53 (2014-15), 33-49 (2015-16), 32-50 (2016-17)
Last Playoff Series Appearance: 2005-06 First-Round vs. San Antonio Spurs
Last Playoff Series Win: 2003-04 First-Round vs. Dallas Mavericks
Last NBA Finals Appearance: 1950-51 NBA Finals vs. New York Knicks (as Rochester Royals)
NBA Championships Won: 1 (as Rochester Royals)
---
Head Coach: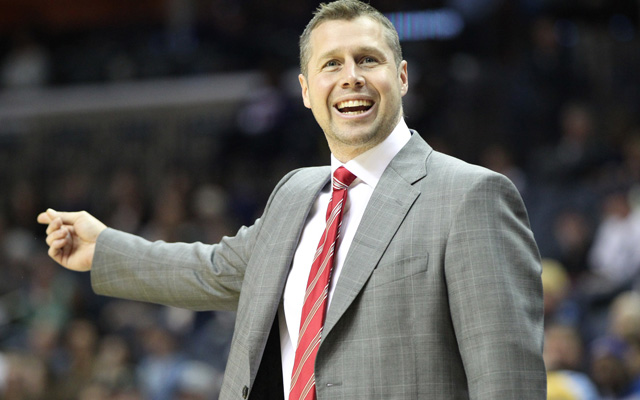 Dave Joerger
Overall Record: 179-149
Record With Team: 32-50
Playoff Record: 9-13
---
The Squad:
Starters (with averages for last season):
PG: George Hill (16.9 PPG, 4.2 APG, 3.4 RPG, 19.3 PER)
SG: Buddy Hield (10.6 PPG, 1.5 APG, 3.3 RPG, 11.8 PER)
SF: Justin Jackson (ROOKIE)
PF: Skal Labissiere (8.8 PPG, 4.9 RPG, 0.8 APG, 16.8 PER)
C: Willie Cauley-Stein (8.1 PPG, 4.5 RPG, 0.6 BPG, 16.3 PER)
Bench:
Zach Randolph (PF), De'Aaron Fox (PG), Kosta Koufos (PF), Bogdan Bogdanovic (SG), Vince Carter (SF), Harry Giles (PF), Garrett Temple (SG), Frank Mason (PG), Georgios Papagiannis (C), Malachi Richardson (SG)
---
Team Leaders (last season):
Points Per Game: DeMarcus Cousins (27.8)
Rebounds Per Game: DeMarcus Cousins (10.6)
Steals Per Game: Rudy Gay (1.5)
Assists Per Game: Ty Lawson (4.8)
Blocks Per Game: DeMarcus Cousins (1.3)
Turnovers Per Game: DeMarcus Cousins (3.8)
---
The Prediction:
25-57