The NBA season is almost here. While the majority of people think the NBA season is already over before it even begins (let's just go ahead and crown the Golden State Warriors right now, right?). we still have to let the season play out because YOU NEVER KNOW WHAT CAN HAPPEN, RIGHT?
What if the Warriors are involved in some kind of freak accident and everyone gets hurt?
Well, the league just opened up for all 29 other teams to win the whole thing.
Even though I personally believe it would take a plane wreck to take the Warriors down, there are some NBA teams out there that think they have the tools and weapons to do exactly that.
Are the Detroit Pistons one of those teams? The Pistons have been irrelevant in the NBA for almost a decade now, which is kind of strange for one of the NBA's most historical franchises. However, with the Eastern Conference down and out, it's time for some new blood to step up and take the conference over and the Pistons have just as good a shot as any other team in the East not named Boston or Cleveland. Of course, Detroit does have it's faults. Who is their game-changing superstar? You know what I'm talking about. The guy who will take over the game when they need it the most? Who is that guy on this roster? Avery Bradley? Andre Drummond? Tobias Harris? Reggie Jackson? Someone on this team needs to step up and become the face of the franchise if the Pistons are going to escape that 25-40 win hole that they've been stuck in for almost 10 years now and I'm not sure that guy is currently on their roster. Will Detroit return to relevancy this year or will it be the same thing we've seen from this team since Chauncey Billups, Rasheed Wallace, Ben Wallace, and Tayshaun Prince left town?
LET'S FIND OUT!!!!!!!!!
Record Last Five Seasons: 29-53 (2012-13), 29-53 (2013-14), 32-50 (2014-15), 44-38 (2015-16), 37-45 (2016-17)
Last Playoff Series Appearance: 2015-16 First-Round vs. Cleveland Cavaliers
Last Playoff Series Win: 2007-08 Second-Round vs. Orlando Magic
Last NBA Finals Appearance: 2004-05 NBA Finals vs. San Antonio Spurs
NBA Championships Won: 3
---
Head Coach: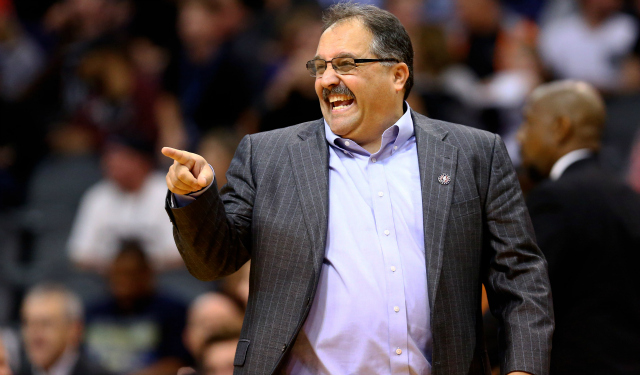 Stan Van Gundy
Overall Record: 484-341
Record With Team: 113-133
Playoff Record: 48-43
---
The Squad:
Starters (with averages for last season):
PG: Reggie Jackson (14.5 PPG, 5.2 APG, 2.2 RPG, 14.9 PER)
SG: Avery Bradley (16.3 PPG, 2.2 APG, 6.1 RPG, 14.4 PER)
SF: Tobias Harris (16.1 PPG, 5.1 RPG, 1.7 APG, 16.9 PER)
PF: Jon Leuer (10.2 PPG, 5.4 RPG, 1.5 APG, 14.2 PER)
C: Andre Drummond (13.6 PPG, 13.8 RPG, 1.1 BPG, 20.9 PER)
Bench:
Ish Smith (PG), Stanley Johnson (SF), Luke Kennard (SG), Anthony Tolliver (PF), Boban Marjanovic (C), Reggie Bullock (SF), Langston Galloway (PG), Henry Ellenson (PF), Eric Moreland (PF)
---
Team Leaders (last season):
Points Per Game: Tobias Harris (16.1)
Rebounds Per Game: Andre Drummond (13.8)
Steals Per Game: Andre Drummond (1.5)
Assists Per Game: Reggie Jackson (5.2)
Blocks Per Game: Andre Drummond (1.1)
Turnovers Per Game: Reggie Jackson (2.2)
---
The Prediction:
43-39