The NBA season is almost here. While the majority of people think the NBA season is already over before it even begins (let's just go ahead and crown the Golden State Warriors right now, right?). we still have to let the season play out because YOU NEVER KNOW WHAT CAN HAPPEN, RIGHT?
What if the Warriors are involved in some kind of freak accident and everyone gets hurt?
Well, the league just opened up for all 29 other teams to win the whole thing.
Even though I personally believe it would take a plane wreck to take the Warriors down, there are some NBA teams out there that think they have the tools and weapons to do exactly that.
Are the Los Angeles Clippers one of those teams? The Clippers have been one of the Western Conference's top teams over the last five years and they are undergoing a bit of a change this season. Chris Paul is gone now. He's taking his talents and his tantrums over to Houston to try to win a title now. The Clippers lost one of their best players in franchise history and are now trying to keep the rest of the puzzle together even though they lost an important corner piece. The good news is, the Clippers should still have a decent team even without Paul. Blake Griffin and DeAndre Jordan are still here and they are damn good players. Patrick Beverly comes over from Houston and he'll annoy the shit out of people. The Clippers also picked up Danilo Gallinari who is an extremely underrated NBA player. While the Clippers may not be as good as they've been in recent years, I still expect this team to do good things this year. Hell, with Chris Paul gone now….things may get even better. I've seen crazier things happen in the NBA.
So what should we expect from the new look Los Angeles Clippers this season?
LET'S FIND OUT!!!!!!!!!
Record Last Five Seasons: 56-26 (2012-13), 57-25 (2013-14), 56-26 (2014-15), 53-29 (2015-16), 51-31 (2016-17)
Last Playoff Series Appearance: 2016-17 First-Round vs. Utah Jazz
Last Playoff Series Win: 2014-15 First-Round vs. San Antonio Spurs
Last NBA Finals Appearance: Never
NBA Championships Won: None
---
Head Coach: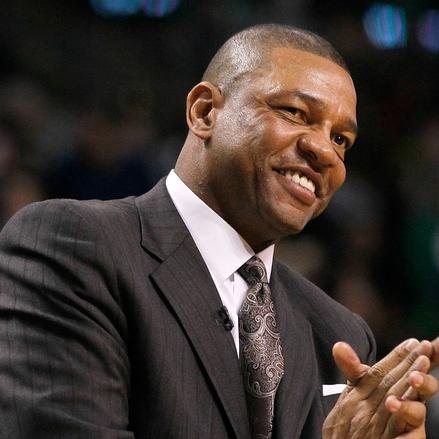 Doc Rivers
Overall Record: 804-584
Record With Team: 217-111
Playoff Record: 82-79
---
The Squad:
Starters (with averages for last season):
PG: Patrick Beverly (9.5 PPG, 4.2 APG, 5.9 RPG, 13.0 PER)
SG: Austin Rivers (12.0 PPG, 2.8 APG, 2.2 RPG, 11.4 PER)
SF: Danilo Gallinari (18.2 PPG, 5.2 RPG, 2.1 APG, 17.4 PER)
PF: Blake Griffin (21.6 PPG, 8.1 RPG, 4.9 APG, 22.6 PER)
C: DeAndre Jordan (12.7 PPG, 13.8 RPG, 1..7 BPG, 21.8 PER)
Bench:
Montrezl Harrell (PF), Milos Teodosic (PG), Lou Williams (SG), Sam Dekker (SF), Willie Reed (C), Wes Johnson (SF), Marshall Plumlee (C), Jawun Evans (PG), Brice Johnson (PF), Sindarius Thornwell (SG)
---
Team Leaders (last season):
Points Per Game: Blake Griffin (21.6)
Rebounds Per Game: DeAndre Jordan (13.8)
Steals Per Game: Chris Paul (2.0)
Assists Per Game: Chris Paul (9.2)
Blocks Per Game: DeAndre Jordan (1.7)
Turnovers Per Game: Chris Paul (2.4)
---
The Prediction:
48-34