The NBA season is almost here. While the majority of people think the NBA season is already over before it even begins (let's just go ahead and crown the Golden State Warriors right now, right?). we still have to let the season play out because YOU NEVER KNOW WHAT CAN HAPPEN, RIGHT?
What if the Warriors are involved in some kind of freak accident and everyone gets hurt?
Well, the league just opened up for all 29 other teams to win the whole thing.
Even though I personally believe it would take a plane wreck to take the Warriors down, there are some NBA teams out there that think they have the tools and weapons to do exactly that.
Are the Houston Rockets one of those teams? If anyone in the NBA has a chance to knock off the Warriors, the Rockets might have one of the best chances. Chris Paul talked his way out of Clipper-land and he's joining Mike D'Antoni's system and he will likely have one of his best seasons ever. Of course, that all depends on how will he gels with James Harden, a player who much like Paul is better with the ball in his hands. The Harden/Paul combination could turn into an absolute steal for Houston…..or it could blow up in everyone's face. In my opinion, that's going to be one of the most interesting storylines going into the season. If this team can click and everything comes together, they have a solid chance to make some noise in the Western Conference. I'm not saying the Rockets will knock off the Warriors, but if anyone in the West has a chance, it could be these guys.
So, just how good will the Rockets be this season in my opinion?
LET'S FIND OUT!!!!!!!!!
Record Last Five Seasons: 45-37 (2012-13), 54-28 (2013-14), 56-26 (2014-15), 41-41 (2015-16), 55-27 (2016-17)
Last Playoff Series Appearance: 2016-17 Second-Round vs. San Antonio
Last Playoff Series Win: 2016-17 First-Round vs. Oklahoma City
Last NBA Finals Appearance: 1994-95 NBA Finals vs. Orlando Magic
NBA Championships Won: 2
---
Head Coach: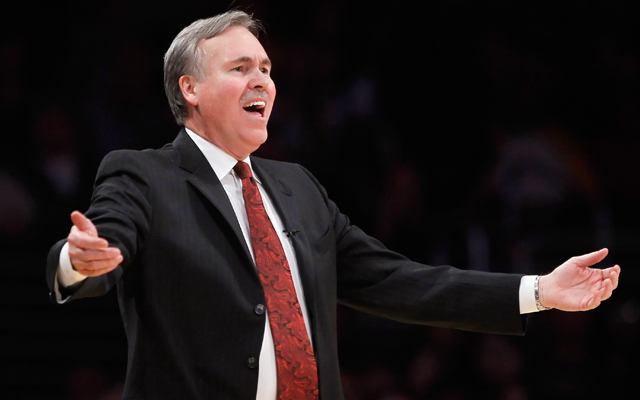 Mike  D'Antoni
Overall Record: 510-453
Record With Team: 55-27
Playoff Record: 32-38
---
The Squad:
Starters (with averages for last season):
PG: Chris Paul (18.1 PPG, 9.2 APG, 5.0 RPG, 26.2 PER)
SG: James Harden (29.1 PPG, 11.2 APG, 8.1 RPG, 27.4 PER)
SF: Trevor Ariza (11.7 PPG, 5.7 RPG, 2.2 APG, 12.4 PER)
PF: Ryan Anderson (13.6 PPG, 4.6 RPG, 0.9 APG, 13.5 PER)
C: Clint Capela (12.6 PPG, 8.1 RPG, 1.2 BPG, 21.4 PER)
Bench:
Eric Gordon (SG), P.J. Tucker (SF), Luc Mbah a Moute (PF), Nene Hilario (C), Bobby Brown (PG), Chris Johnson (SF), Isaiah Taylor (PG), Tim Quarterman (SG), Tarik Black (C), Troy Williams (SF)
---
Team Leaders (last season):
Points Per Game: James Harden (29.1)
Rebounds Per Game: James Harden (8.1)
Steals Per Game: Trevor Ariza (1.8)
Assists Per Game: James Harden (11.2)
Blocks Per Game: Clint Capela (1.2)
Turnovers Per Game: James Harden (5.7)
---
The Prediction:
58-24