The USB's 2017 NFL Preview rolls along with a look at the San Francisco 49ers.
It's been a difficult last few seasons for fans of the 49ers. After a nice run with Jim Harbaugh that looked like the 49ers were set to be one of the best NFL teams for years to come, everything went to shit real fast and the 49ers are a dumpster fire.
But for how long though? Can the 49ers actually compete this year or should their fans just skip the season?
ONLY ONE WAY TO FIND OUT!!!!!!!!!!!!
LEZZZZZZZZZZZ DOOOOOOOOOOOO DISSSSSSSSSSSSS!!!!!!!!!!!!!!!!!!!
2017 NFL Preview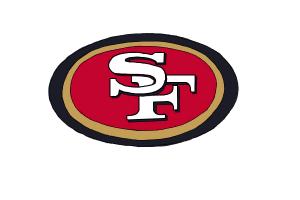 Record Last Five Seasons: 11-4-1 (2012), 12-4 (2013), 8-8 (2014), 5-11 (2015), 2-14 (2016)
Last Playoff Win: 2013 Divisional vs. Carolina
Last Playoff Appearance: 2013 NFC Championship vs. Seattle
Super Bowl Wins: Super Bowl XVI, Super Bowl XIX, Super Bowl XXIII, Super Bowl XXIV, Super Bowl XXIX
Last Super Bowl Appearance: Super Bowl XXIX vs. Los Angeles Chargers
The Head Coach:
Kyle Shanahan
Coaching Record: 0-0
Playoff Record: 0-0
Grade: Incomplete
2016-17 Team Leaders:
Passing Yards/Touchdowns: Colin Kaepernick (2,241), Colin Kaepernick (16)
Rushing Yards/Touchdowns: Carlos Hyde (998), Carlos Hyde (6)
Receiving Yards/Touchdowns: Jeremy Kerley (667), Vance McDonald (4)
Tackles: Antoine Bethea (110)
Interceptions: Gerald Hodges (2)
2017 Projected Starters:
Grade Key:
ELITE
GREAT
GOOD
NOT GOOD
ROOKIE
HORRIBLE
Offense:
QB: Brian Hoyer
RB: Carlos Hyde
WR: Pierre Garcon
WR: Marquise Goodwin
WR: Jeremy Kerley
TE: Vance McDonald
LT: Joe Staley
RT: Trent Brown
RG: Brandon Fusco
LG: Zane Beadles
OC: Daniel Kilgore
Defense:
DE: Arik Armstead
DE: Solomon Thomas
DT: DeForest Buckner
DT: Earl Mitchell
LB: NaVorro Bowman
LB: Reuben Foster
LB: Ahmad Brooks
CB: Rashard Robinson
CB: Dontae Johnson
FS: Jimmie Ward
SS: Eric Reid
The Schedule:
vs. Carolina Panthers (September 10)
vs. @ Seattle Seahawks (September 17)
vs. Los Angeles Rams (September 21)
vs. @ Arizona Cardinals (October 1)
vs. @ Indianapolis Colts (October 8)
vs. @ Washington Redskins (October 15)
vs. Dallas Cowboys (October 22)
vs. @ Philadelphia Eagles (October 29)
vs. Arizona Cardinals (November 5)
vs. New York Giants (November 12)
BYE WEEK
vs. Seattle Seahawks (November 26)
vs. @ Chicago Bears (December 3)
vs. @ Houston Texans (December 10)
vs. Tennessee Titans (December 17)
vs. Jacksonville Jaguars (December 24)
vs. @ Los Angeles Rams (December 31)
Three Things I Like About The 49ers This Season:
-Kyle Shanahan: Kyle Shanahan has been patiently waiting for his first NFL head coaching gig for over 13 NFL seasons now. He's 37 years old and is coming off arguably his best season ever as offensive coordinator for the Atlanta Falcons, where that team was one-quarter away from a Super Bowl victory. Shanahan has a difficult task in front of him as head coach of the San Francisco 49ers, but I think he's the right man for the job. Once this guy finds his QB, 49ers fans will start to see why Shanahan is widely regarded as one of the best offensive minds in the NFL.
-Loaded QB NFL Draft: The 49ers likely don't have their QB of the future on the roster right now. Thankfully for them, next year's NFL Draft is set to be absolutely loaded at the QB position. If Sam Darnold turns pro, he could become the best QB prospect since Andrew Luck. If Darnold stays in school, Wyoming's Josh Allen is a hell of a consolation prize for the 49ers if they end up with the #1 overall pick. Plus, there are plenty of other guys who are set to potentially jump up into the conversation as well. If you're going to suck for a top pick, this could be the year to do it. Teams like the Buffalo Bills and New York Jets have seemingly put that together. I'm betting the 49ers will as well.
-C.J. Beathard: If there is a QB on the 49ers roster who could surprise some people, it's C.J. Beathard. Beathard saw a lot of action while playing at Iowa and was a pretty effective QB overall. Every now and then there's a QB that comes around that totally surprises people. It really wouldn't shock me to see the 49ers give Beathard some starts this season and for him to look like a decent NFL QB in those starts.
Three Things I Hate About The 49ers This Season:
-Roster Stinks: From top-to-bottom the 49ers aren't a very good team. Sorry to break it to you 49ers fans, but it's the truth. Yes, there are a few players I would definitely welcome on my team (Pierre Garcon, DeForest Buckner, NaVorro Bowman, and Joe Staley) but outside of those guys, it's pretty disgusting. Arik Armstead had a good rookie year, but his play dropped off last season. The 49ers don't have a cornerback on their roster who is worth a damn. Eric Reid used to be good, but something happened to him. Luckily the 49ers have some rookies on the defensive side of the ball (Solomon Thomas and Reuben Foster) who should make immediate impacts on the field this season. Things are looking up 49ers fans. You just have to be patient.
-QB Situation: The 49ers QB situation is a disaster. Brian Hoyer is currently set to be their starter this season, but we all know what he is. You aren't going to get very far with Hoyer as your signal caller. Hoyer's current back-up is Matt Barkley, who actually played decent in spots last year for the Chicago Bears. If Hoyer starts to struggle (and he will), how long will it be before the 49ers fans are begging to see Barkley? Not only that, but behind Barkley you have C.J. Beathard, who is a rookie who has looked decent in pre-season this season. Who's going to end up with the 49ers QB job by the end of the season? Does it really matter though?
-Tough Schedule: Going through the 49ers schedule, it's extremely hard to find any wins. They aren't winning any of their road games. Not even the one against the Bears. I honestly think their chances of a win this season are against the Rams at home and against the Jaguars at home. Outside of those two games, I think there's a chance this team goes winless this season. 0-16 isn't so bad when you remember the grand prize is a QB in the NFL Draft.
The Prediction:
1-15