Ladies and gentlemen….we have finally arrived at the POWER FIVE CONFERENCES IN COLLEGE FOOTBALL! College football is just about a month away and it's time to start getting hyped folks. And the hype begins with THE USB'S COLLEGE FOOTBALL PREVIEW!
First up in the POWER FIVE conferences is the ACC!
Last year's National Championship winner came from the ACC and Clemson is back to defend their crown with another stacked team. However, there are TONS of other challengers in what I personally think is one of the most talented divisions in college football this year.
So, who's taking home the crown in the ACC?
Will it be Clemson again?
Florida State?
Lamar Jackson and the Louisville Cardinals?
What about a Miami Hurricanes resurrgence?
It could all happen, just read on………
14. Duke Blue Devils
Last Year's Record: 4-8
Last Year's Bowl Game: None
Head Coach: David Cutcliffe (52-61 at Duke, 96-90 all-time)
Top Returning Players: Ben Humphreys (LB), T.J. Rahming (WR), Austin Davis (OL), James Hornbuckle (DL), Daniel Jones (QB), Shaun Wilson (RB), Johnathan Lloyd (WR), Zach Harmon (OL), Gabe Brandner (OL), Mike Ramsay (DL), Joseph Giles-Harris (LB), Bryon Fields (CB), Alonzo Saxton (S), Austin Parker (K)
Top Incoming Players: Jake Marwede (TE), Drew Jordan (DL), Jacob Rimmer (OL), Damani Neal (DB), Will Taylor (OL), Deon Jackson (RB), Marvin Hubbard (RB), Chris Katrenick (QB)
Toughest Games This Season: Northwestern (September 9), Baylor (September 16), @ North Carolina (September 23), Miami, FL (September 29), Florida State (October 14), Pittsburgh (October 21), @ Virginia Tech (October 28), @ Army West Point (November 11)
Predicted Record: 3-9 (1-7)
---
13. Virginia Cavaliers
Last Year's Record: 2-10
Last Year's Bowl Game: None
Head Coach: Bronco Mendenhall (2-10 at Virginia, 101-53 all-time)
Top Returning Players: Micah Kiser (LB), Quin Blanding (S), Colin McGovern (OL), Jordan Ellis (RB), Olamide Zaccheaus (WR), Andrew Brown (DL), Kurt Benkert (QB), Doni Dowling (WR), Jack McDonald (OL), Jack English (OL), Eli Hanback (DL), Chris Peace (DL), Jordan Mack (LB), Bryce Hall (CB), Juan Thornhill (S)
Top Incoming Players: Shawn Smith (WR), Germane Crowell (DB), Jamari Peacock (RB), Lindell Stone (QB), Ryan Nelson (OL), Lamont Atkins (RB), Tyler Fannin (OL), Zane Chandler (LB), Tommy Christ (DL), Terrell Jana (WR)
Toughest Games This Season: Indiana (September 9), @ Boise State (September 22), @ North Carolina (October 14), @ Pittsburgh (October 28), @ Louisville (November 11), @ Miami, FL (November 18), Virginia Tech (November 24)
Predicted Record: 3-9 (1-7)
---
12. Syracuse Orange
Last Year's Record: 4-8
Last Year's Bowl Game: None
Head Coach: Dino Babers (4-8 at Syracuse, 22-17 all-time)
Top Returning Players: Ervin Phillips (WR), Zaire Franklin (LB), Antwan Cordy (S), Sterling Hofrichter (P), Eric Dungey (QB), Dontae Strickland (RB), Steve Ishmael (WR), Airon Servais (OL), Evan Adams (OL), Aaron Roberts (OL), Jamar McGloster (OL), Cody Conway (OL), Cole Murphy (K), Josh Black (DL), Chris Slayton (DL), McKinley Williams (DL), Kendall Coleman (DL), Parris Bennett (LB), Jonathan Thomas (LB), Christopher Fredrick (CB), Daivon Ellison (S)
Top Incoming Players: Mykelti Williams (DB), Ravian Pierce (TE), Tommy DeVito (QB), Nadarius Fagan (LB), Allen Stritzinger (RB), Zach Morton (DL), Chris Elmore (RB), Aaron Hackett (TE)
Toughest Games This Season: @ LSU (September 23), @ N.C. State (September 30), Pittsburgh (October 7), Clemson (October 13), @ Miami, FL (October 21), @ Florida State (November 4), @ Louisville (November 18)
Predicted Record: 4-8 (1-7)
---
11. Wake Forest Demon Deacons
Last Year's Record: 7-6
Last Year's Bowl Game: Military vs. Temple (Won 34-26)
Head Coach: Dave Clawson (13-24 at Wake Forest, 45-55 all-time)
Top Returning Players: Cam Serigne (TE), Ryan Anderson (OL), Phil Haynes (OL), Duke Ejiofor (DL), Jessie Bates (S), Jaboree Williams (LB), Cade Carney (RB), Tabari Hines (WR), Justin Herron (OL), Mike Weaver (K), Dom Maggio (P), Kendall Hinton (QB), Chuck Wade (WR), Scotty Washington (WR), Wendell Dunn (DL), Amari Henderson (CB)
Top Incoming Players: Mike Allen (DL), Sage Surratt (WR), Tyriq Hardimon (DB), Troy Simon (DB), Christian Beal (RB), Jaquaril Roberson (WR), D.J. Taylor (LB), Chase Monroe (LB), Tayvone Bowers (QB)
Toughest Games This Season: Florida State (September 30), @ Clemson (October 7), Louisville (October 28), N.C. State (November 18)
Predicted Record: 5-7 (2-6)
---
10. Boston College Eagles
Last Year's Record: 7-6
Last Year's Bowl Game: Quick Lane vs. Maryland (Won 36-30)
Head Coach: Steve Addazio (24-27 at Boston College, 37-38 all-time)
Top Returning Players: Harold Landry (DL), Chris Lindstrom (OL), Connor Strachan (LB), Tommy Sweeney (TE), Jon Hilliman (RB), Jeff Smith (WR), Michael Walker (WR), Jon Baker (OL), Aaron Monteiro (OL), Marcell Lazard (OL), Mike Knoll (K), Ray Smith (DL), Ty Schwab (LB), Isaac Yiadom (CB), Kamrin Moore (CB), Will Harris (S)
Top Incoming Players: A.J. Dillon (RB), Benjamin Petrula (OL), Travis Levy (RB), Isaiah McDuffie (LB), Jahmin Muse (WR), C.J. Lewis (QB), Paul Theobald (LB), Patrick Brown (TE)
Toughest Games This Season: @ Clemson (September 23), Virginia Tech (October 7), @ Louisville (October 14), Florida State (October 27), N.C. State (November 11)
Predicted Record: 5-7 (2-6)
---
9. Georgia Tech Yellow Jackets
Last Year's Record: 9-4
Last Year's Bowl Game: TaxSlayer vs. Kentucky (Won 33-18)
Head Coach: Paul Johnson (71-48 at Georgia Tech, 116-77 all-time)
Top Returning Players: Dedrick Mills (RB), Parker Braun (OL), Lawrence Austin (CB), Clinton Lynch (RB), J.J. Green (RB), Brad Stewart (WR), Ricky Jeune (WR), Will Bryan (OL), Andrew Marshall (OL), Kyle Cerge-Henderson (DL), KeShun Freeman (DL), Brant Mitchell (LB), Lawrence Austin (LB), Step Durham (CB), Lance Austin (CB), Corey Griffin (S), A.J. Gray (S)
Top Incoming Players: Bruce Jordan-Swilling (LB), Tre Swilling (DB), Jaquan Henderson (LB), Jaytlin Askew (DB), Gentry Bonds (DB), Kaleb Oliver (DB), Dameon Williams (DB), Cortez Alston (DL), Zach Quinney (OL), Jerry Howard (RB), Pressley Harvin (K)
Toughest Games This Season: Tennessee (September 4), Pittsburgh (September 23), North Carolina (September 30), @ Miami, FL (October 12), @ Clemson (October 28), Virginia Tech (November 11), Georgia (November 25)
Predicted Record: 7-5 (5-3)
---
8. North Carolina Tar Heels
Last Year's Record: 8-5
Last Year's Bowl Game: Sun vs. Stanford (Lost 23-25)
Head Coach: Larry Fedora (40-25 at North Carolina, 74-44 all-time)
Top Returning Players: Tom Sheldon (P), M.J. Stewart (CB), Jalen Dalton (DL), Bentley Spain (OL), Cole Holcomb (LB), Austin Proehl (WR), Brandon Fritts (TE), Cameron Dillard (OL), R.J. Prince (OL), Aaron Crawford (DL), Malik Carney (DL), Andre Smith (LB), Cayson Collins (LB), Donnie Miles (S)
Top Incoming Players: Jonah Melton (OL), Jake Lawler (DL), C.J. Cotman (DB), Tre Shaw (DB), Xach Gill (DL), J.T. Cauthen (WR), Billy Ross (OL), Michael Carter (RB), Jordon Riley (DL), Malik Robinson (LB), Caleb Rozar (DB), Jordan Tucker (OL), Brian Anderson (OL), Jeremian Gemmel (LB), Antwaun Branch (RB)
Toughest Games This Season: Louisville (September 9), @ Virginia Tech (October 21), Miami, FL (October 28), @ Pittsburgh (November 9), @ N.C. State
Predicted Record: 8-4 (4-4)
---
7. N.C. State Wolfpack
Last Year's Record: 7-6
Last Year's Bowl Game: Independence vs. Vanderbilt (Won 41-17)
Head Coach: Dave Doeren (25-26 at N.C. State, 48-30 all-time)
Top Returning Players: Jaylen Samuels (WR), Bradley Chubb (DL), Tony Adams (OL), Ryan Finley (QB), Nyheim Hines (RB), Will Richardson (OL), Justin Jones (DT), Germaine Pratt (LB), Shawn Boone (S), Stephen Louis (WR), Kelvin Harmon (WR), Cole Cook (TE), Garrett Bradbury (OL), Tyler Jones (OL), Kentavius Street (DL), B.J. Hill (DL), Jerod Fernandez (LB), Mike Stevens (CB), A.J. Cole (P), Carson Wise (K)
Top Incoming Players: Grant Gibson (DL), Chris Ingram (DB), Matt McKay (QB), Louis Acceus (LB), Emeka Emezie (WR), Joshua Fedd-Jackson (OL), Damien Darden (TE), Antoine Thompson (WR), Raven Saunders (LB), Erin Collins (RB), Isaiah Moore (LB)
Toughest Games This Season: South Carolina (September 2), @ Florida State (September 23), Louisville (October 5), @ Pittsburgh (October 14), Clemson (November 4), North Carolina (November 25)
Predicted Record: 8-4 (5-3)
---
6. Pittsburgh Panthers
Last Year's Record: 8-5
Last Year's Bowl Game: Pinstripe vs. Northwestern (Lost 24-31)
Head Coach: Pat Narduzzi (16-10 all-time)
Top Returning Players: Brian O'Neill (OL), Qadree Ollison (RB), Quadree Henderson (WR), Jordan Whitehead (S), Jester Weah (WR), Alex Bookser (OL), Avonte Maddox (CB), Max Browne (QB), Oluwaseun Idowu (LB), George Aston (RB), Alex Officer (OL), Rori Blair (DL), Ryan Winslow (P)
Top Incoming Players: Paris Ford (DB), A.J. Davis (RB), Todd Sibley (RB), Carter Warren (OL), Charles Reeves (TE), Kamonte Carter (DL), Jerry Drake (OL), Jaylen Twyman (DL), Kyle Nunn (LB), Kenny Pickett (QB), Cameron Bright (LB), Carson Van Lynn (DL), Gabe Houy (OL), Darian Street (WR), Dontavius Butler (WR), Albert Tucker (LB)
Toughest Games This Season: @ Penn State (September 9), Oklahoma State (September 16), N.C. State (October 14), North Carolina (November 9), @ Virginia Tech (November 18), Miami, FL (November 24)
Predicted Record: 8-4 (5-3)
---
5. Clemson Tigers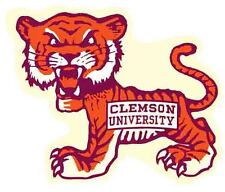 Last Year's Record: 14-1
Last Year's Bowl Game: Fiesta vs. Ohio State (Won 31-0), CFP Championship vs. Alabama (Won 35-31)
Head Coach: Dabo Swinney (89-28 all-time)
Top Returning Players: Deon Cain (WR), Mitch Hyatt (OL), Christian Wilkins (DL), Dexter Lawrence (DL), Kendall Joseph (LB), Clelin Ferrell (DL), Van Smith (S), Greg Huegel (K), Hunter Renfrow (WR), Tyrone Crowder (OL), Taylor Hearn (OL), Sean Pollard (OL), Dorian O'Daniel (LB), Trayvon Mullen (CB)
Top Incoming Players: Hunter Johnson (QB), Tee Higgins (WR), Justin Foster (LB), A.J. Terrell (DB), Amari Rodgers (WR), Jordan Williams (DL), LeAnthony Williams (DB), Matt Bockhorst (OL), Chase Brice (QB), Logan Rudolph (LB), Travis Etienne (RB), Noah DeHond (OL), Blake Vinson (OL), Baylon Spector (LB)
Toughest Games This Season: Auburn (September 9), @ Louisville (September 16), @ Virginia Tech (September 30), @ N.C. State (November 4), Florida State (November 11), @ South Carolina (November 25)
Predicted Record: 9-3 (5-3)
---
4. Virginia Tech Hokies
Last Year's Record: 10-4
Last Year's Bowl Game: Belk vs. Arkansas (Won 35-24)
Head Coach: Justin Fuente (10-4 at Virginia Tech, 36-27 all-time)
Top Returning Players: Wyatt Teller (OL), Tremaine Edmunds (LB), Cam Phillips (WR), Andrew Motuapuaka (LB), Greg Stroman (CB), Travon McMillan (RB), Brandon Facyson (CB), Joey Slye (K), Eric Gallo (OL), Yosuah Nijman (OL), Vinny Mihota (DL), Mook Reynolds (LB), Terrell Edmunds (S)
Top Incoming Players: Devon Hunter (DB), Nathan Proctor (DL), TyJuan Garbutt (DL), Dylan Rivers (LB), Hendon Hooker (QB), Drake Deluliis (TE), Jalen Holston (RB), Rico Kearney (LB), Sean Savoy (WR), Dalton Keene (TE), Bryce Watts (DB), Kalil Pimpleton (WR), Jaylen Griffin (LB), Hezekiah Grimsley (WR), Rayshard Abbey (LB), Lectius Smith (TE), Zion Debose (DL), A.J. Bush (QB), Robert Porcher (DL)
Toughest Games This Season: West Virginia (September 3), Clemson (September 30), North Carolina (October 21), @ Miami, FL (November 4), Pittsburgh (November 18)
Predicted Record: 10-2 (6-2)
---
TIE – 3. Miami Hurricanes
Last Year's Record: 9-4
Last Year's Bowl Game: Russell Athletic vs. West Virginia (Won 31-14)
Head Coach: Mark Richt (9-4 at Miami, 154-55 all-time)
Top Returning Players: Mark Walton (RB), Ahmmon Richards (WR), Shaq Quarterman (LB), Christopher Herndon (TE), Kendrick Norton (DL), Nick Linder (OL), Michael Badgley (K), R.J. McIntosh (DL), Sheldrick Redwine (S), Tyree St. Louis (OL), K.C. McDermott (OL), Trevor Darling (OL), Chad Thomas (DL), Trent Harris (DL), Michael Pinckney (LB), Zach McCloud (LB), Jaquan Johnson (S)
Top Incoming Players: Jhavonte Dean (DB), Jeff Thomas (WR), D.J. Johnson (DL), Navaughn Donaldson (OL), N'Kosi Perry (QB), Kai-Leon Herbert (OL), DeeJay Dallas (WR), De'Andre Wilder (LB), Trajan Bandy (DB), Robert Burns (RB), Mike Harley (WR), Jonathan Ford (DL), Waynmon Steed (LB), Brian Polendey (TE), Amari Carter (DB), Jonathan Garvin (DL), Bradley Jennings (LB), Evidence Njoku (WR), Zach Dykstra (OL), Cade Weldon (QB)
Toughest Games This Season: @ Florida State (September 16), Toledo (September 23), @ North Carolina (October 28), Virginia Tech (November 4), @ Pittsburgh (November 24)
Predicted Record: 10-3 (6-2)
---
TIE – 3. Louisville Cardinals
Last Year's Record: 9-4
Last Year's Bowl Game: Citrus vs. LSU (Lost 9-29)
Head Coach: Bobby Petrino (67-22 at Louisville, 109-43 all-time)
Top Returning Players: Lamar Jackson (QB), Jaire Alexander (CB), Geron Christian (OL), James Hearns (LB), Jaylen Smith (WR), Stacy Thomas (LB), Mason King (P), Lukayus McNeil (OL), Blanton Creque (K), Drew Bailey (DL), Trumaine Washington (CB), Chucky Williams (S), Zykiesis Cannon (S)
Top Incoming Players: Colin Wilson (RB), C.J. Avery (CB), Ronald Rudd (OL), Russ Yeast (WR), Toryque Bateman (OL), Mekhi Becton (OL), Caleb Chandler (OL), TreSean Smith (DB), Corey Reed (WR), Rodney Owens (DB), Cole Bentley (OL), Justin Marshall (WR), Kameron Jones (LB), Joshua Johnson (WR), Kemari Averett (TE)
Toughest Games This Season: @ North Carolina (September 9), Clemson (September 16), @ N.C. State (October 5), @ Florida State (October 21), @ Kentucky (November 25)
Predicted Record: 10-2 (6-2)
---
1. Florida State Seminoles
Last Year's Record: 10-3
Last Year's Bowl Game: Orange vs. Michigan (Won 33-32)
Head Coach: Jimbo Fisher (78-17 all-time)
Top Returning Players: Alec Eberle (OL), Derwin James (S), Deondre Francois (QB), Brock Ruble (OL), Derrick Nnadi (DL), Josh Sweat (DL), Ryan Izzo (TE), Brian Burns (DL), Matthew Thomas (LB), Auden Tate (WR), Landon Dickerson (OL), Demarcus Christmas (DL), Ro'Derrick Hoskins (LB), Jacob Pugh (LB), Tarvarus McFadden (CB), A.J. Westbrook (CB), Trey Marshall (S), Ricky Aguayo (K)
Top Incoming Players: Marvin Wilson (DL), Cam Akers (RB), Joshua Kaindoh (DL), Stanford Samuels (DB), D.J. Matthews (WR), Khalan Laborn (RB), Ja'len Parks (DL), Cyrus Fagan (DB), Adonis Thomas (LB), Hamsah Nasirildeen (DB), Bailey Hockman (QB), Zaquandre White (RB), Leonard Warner (LB), Cory Durden (DL), Tre' McKitty (TE), Alex Marshall (TE), Tre Lawson (DL), James Blackman (QB), Tamorrion Terry (WR), DeCalon Brooks (LB)
Toughest Games This Season: Alabama (September 2), Miami, FL (September 16), N.C. State (September 23), Louisville (October 21), @ Clemson (November 11), @ Florida (November 25)
Predicted Record: 12-1 (7-1)