6:32 PM: Hi, hello and welcome back to the Stanley Cup Final! Tonight brings us Game 3, live from the Bridgestone Arena in Nashville, Tennessee. The Predators are down two games to zero after an unfortunate trip to Pittsburgh (but really, aren't all trips to Pittsburgh unfortunate?), and need to do what they've done seven out of eight home playoff games: Win. If the Preds win tonight, they're still alive and there's still hope in Smashville. If they lose, it's all over but the shouting, as there isn't a team in the NHL that could come back from a 3-0 deficit to the Penguins.
It's been a rough series for the Preds, and for me as well. Like the Preds, I am worn out from a long postseason and have been feeling it the last few days. I didn't make it through Game 1 due to bad officiating and drinking a wee bit too much, and I didn't make it through Game 2 as I pulled myself at the same time Pekka Rinne got pulled.
…I should probably think of a better way to phrase that.
Increased hours at my jobs & side gigs along with a long postseason have left this hockey traveler weary. The heat and my playoff hair & beard are making for a rough combination as well. But like my team, I need to overcome & persevere. I need to survive tonight. I need a Predators win to get right with the man.
7:47: My t-shirt for the evening, along with a partial beard update.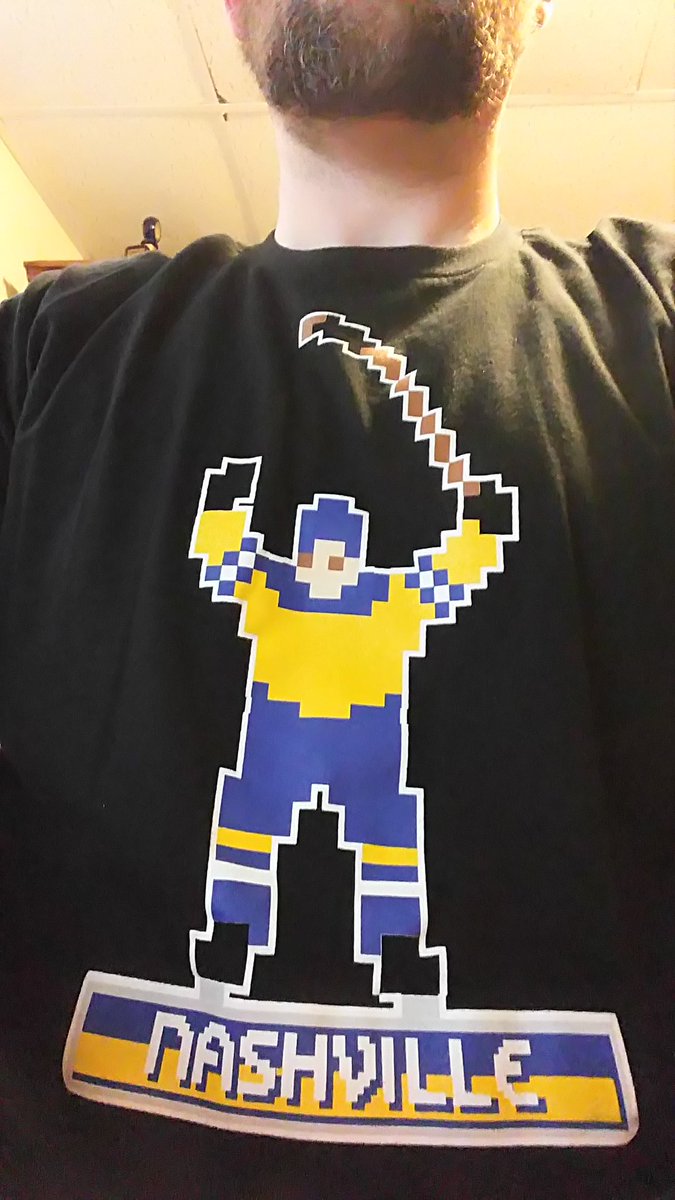 7:51: Preds' lines for tonight:
Forsberg-Sissons-Aberg
Neal-Fisher-Arvidsson
Smith-Jarnkrok-Watson
Zolnierczyk-Gaudreau-Parenteau
No Cody McLeod or Vernon Fiddler tonight, which hopefully will be for the best. Parenteau hasn't been great when I've seen him, but more of Gaudreau & Zolnierczyk could be fun.
8:08: The crowd looks as excited as expected. I can't help but have last-minute doubt set in. The Pens won the first two. We can talk about how the Preds dominated play, but the scoreboard's what decides who gets to be champion. The Penguins will not wilt in this environment. Will the Preds rise to it?
8:17: They've really played up P.K. Subban's guarantee in the pre-game. Don't people always say they're going to win? Certainly in America, they do.
Introductions: I should go ahead and admit that I don't understand most of the crowd chants. So don't ask me. Shame Carrie's face was covered by the phone.
Anthem: Martina McBride! Another one of Nashville's finest. A catfish appears at the end! You might have noticed that's become a thing.
18:31 1st: James Neal laying those hits in early. People don't seem to like him much. Dunno why.
17:14 1st: Penguins off to a hot start again, and another goal for Jake Guentzel, the 15-year old wonder. Early shot to the jaw to quiet the crowd. Pekka still struggling.
15:10 1st: Penalty on Subban. Pens with a golden opportunity to snuff the Preds out early.
12:58 1st: Preds kill off the power play. Has anybody on the team considered cheap-shotting Guentzel one time? He's like 12 years old, he needs to be roughed up a little bit. Just saying.
11:38 1st: Pekka nearly flipped out on a dump-in. The Penguins have him rattled. Dude has never beaten the Pens in his entire career…it sure would be nice if he could do it sometime in the next week or so.
10:19 1st: Slap shot by Mattias Ekholm that would have gone in during other rounds when the hockey gods were on Nashville's side. Now, Matt Murray can stop any damn shot.
7:16 1st: Preds get called for too many men on the ice. One of these teams is rattled by the environment, and it isn't Pittsburgh.
7:00 1st: Preds actually get a chance at a short-handed goal with a 2 on 1 breakaway, but Viktor Arvidsson finds nothing but Murray's pads. The Fisher-Neal connection just isn't working for him for whatever reason.
4:42 1st: The Preds did kill off the penalty and were impressive in doing so. They gotta hang in and not break down on defense.
3:54 1st: I'm not a fan at all of the organist playing Kurt Angle's theme song. He's a Pittsburgh guy! WUT DA HAIL?
3:06 1st: I suspect AJ Styles would be an Atlanta Thrashers guy, but his song is a much better choice here.
1:46 1st: Went that long without my stream completely breaking. Fairly impressive, I suppose. Nothing happened for the last 1:46 and the Pens lead 1-0 after 1.
1st Intermission: THE DUDE FROM STYX WITH THE HOUSE BAND! Good stuff. Quiet down, Milbury!
What would I like to see from the Preds in the second period? A goal would be nice. Two would be even better.
Gotta watch the beginning of the period real close, goals seem to happen during this time.
18:35 2nd: We're at the stage of the series where there's a scrum whenever anybody's close to the net after the whistle blows. That's gotta get tiring, right?
15:47 2nd: Pens commit a penalty. Who knew such a thing was possible?
15:30 2nd: Filip Forsberg fires a shot into Arvidsson's cup. Yikes.
14:09 2nd: The Preds break the ice! It's Roman Josi, as it usually seems to be in these situations. He shoots it off the left hand of a Penguin and it goes into the net. Nice.
13:27 2nd: Preds take the lead! It's a nice slap shot from Fredrick Gaudreau! Let's see if they can get a third.
12:48 2nd: Huge save by Pekka, the first spectacular one I can remember from this round.
7:45 2nd: 3 on 1 failures are never really fun. Good stretch of hockey here though.
5:32 2nd: How high is that ladder Gnash is on? That makes Jeff Hardy's ladder look tiny.
4:20 2nd: I forgot Megyn Kelly existed for a few weeks there. Those were enjoyable weeks.
3:23 2nd: Ryan Ellis goes to the box after a hit on Guentzel. Not hard enough, either.
1:09 2nd: PP was killed off. Preds have looked a lot better this period. Much more fun to watch so far…but we do have some seconds left.
22.6 2nd: THE REAL DEAL JAMES NEAL! 3-1 Preds on a nice little wrister off a pass by Arvi. Two goal leads are much better than one goal leads.
2nd Intermission: Well that was fun! Preds up by 2 and things are looking good. They can't afford to let up now though. We've seen the Pens go off on scoring runs early in periods, the 3rd period in Game 2 was pretty memorable for that. I expect the Penguins to come out strong and the Preds better be ready to stand their ground.
I think I might actually make it for the whole game this time, which is a mild upset as I've been up since 5 AM and got 5 hours of sleep the night before. This is going to be a rough stretch for me, let's hope it at least pays off with a regulation win tonight.
20:00 3rd: GLORIOUS!
18:00 3rd: I'll take two minutes in without a goal as a good thing. I think the Pens had three by this point last game.
15:06 3rd: Craig Smith with the breakaway goal and it's 4-1! Preds had another breakaway earlier that was unsuccessful, but they got this one. Been nice to have Smith back in the mix.
14:10 3rd: A catfish sighting!
13:09 3rd: Heck of a save by Pekka on that one, looked like it would be 4-2 for sure. He's gaining some confidence tonight, hopefully it keeps up.
9:18 3rd: Everybody from Sweden wants to fight each other. I'll have to give the Preds the advantage there if it comes to that based on numbers. We get a 4 on 4, which should work to Pittsburgh's favor based on the stats.
7:17 3rd: Crosby finds his way to the box after roughing Ryan Ellis. Malkin's already there, how often do you see those two in the penalty box together?
6:50 3rd: Ekholm makes them pay right away. Nice pass from Calle Jarnkork for find him. 5-1 and it's looking like at least a five game series at this point.
5:04 3rd: I'm amazed that Ekholm hadn't scored a goal yet in the postseason. 19 Preds have, even guys like McLeod & Fiddler that some of the fans rebel against. The variety has been key to getting the Preds to this point.
4:22 3rd: Ekholm heads to the showers early, which is probably for the best as everybody on Pittsburgh wants to fight him. Hornqvist goes to the other shower, I presume.
2:59 3rd: Chippiness continuing to escalate, this time it's Matt Irwin taking a shot from Phil Kessel after he took a shot at somebody else. At this rate there won't be anybody left for the last minute or so. Preds get a power play out of it and the clock winds down.
1:15 3rd: The fans want the Cup. They need the Preds to get three more wins. Rinne stops a breakaway attempt.
0:00 3rd: Some more chippiness at the end. PK let Guentzel & Crosby know what was up afterwards. You know what, it ain't bragging if you back it up, and the Preds backed up PK's words tonight.
Pekka Rinne definitely backed them up. Tonight was Pekka's Redemption Song. He struggled in Pittsburgh and people were starting to wonder about him. He didn't look too good early tonight either. But something flipped a switch and he looked like the Pekka we've seen the rest of the playoffs.
If he can keep this up…look the hell out.
That was Game 3! I finally made it through one of these games, so hooray me! Check my Twitter feed @stevecook84 for updates on future live blogs. Good night, and GO PREDS!